Alaska Airlines Credit Card Review
January 10, 2020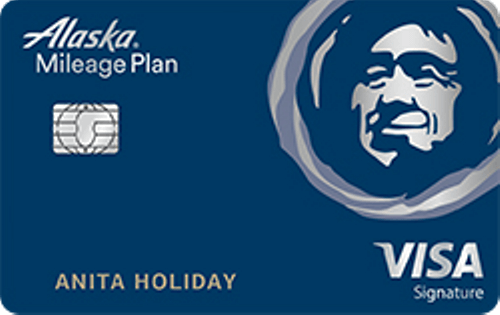 Get rewarded with the Alaska Airlines Credit Card
The Alaska Airlines Visa® Credit Card is a travel rewards card offered through the Bank of America in partnership with Alaska Airlines. Cardholders earn bonus miles for every dollar spent on Alaska Airlines purchases along with extra benefits such as companion flights and travel rewards.
This card is a great fit if you're a frequent flyer with a preference for Alaska Airlines — you get the advantage of great travel perks along with the earning potential for more Alaska Airlines flights, more quickly.
What to expect from the Alaska Airlines Credit Card
APR: 17.49%-25.49%, variable with prime rate and based on creditworthiness. This card doesn't offer an intro APR for balance transfers or purchases. 
Annual Fee: $75
Reward Rates: Earn three miles for every $1 spent on eligible Alaska Airlines purchases with no yearly cap, plus one mile for every dollar spent everywhere else.
Intro Offer: Get 40,000 bonus miles when you spend $2,000 or more in the first 90 days after account opening.
Even better
Bonus companion fare: Get a companion fare from just $121 ($99 per flight plus approximately $22 in taxes) after you spend $2,000 in the first 90 days after account opening.
Yearly companion fare: Enjoy another companion fare every year on your account anniversary.
No blackout dates: Miles redemption and companion fares booked via alaskaair.com have no blackout dates.
Go (almost) anywhere: Choose to spend your rewards on any of Alaska's 1,200 daily flights or fly with Alaska Airlines partners to more than 900 destinations worldwide.
Free checked bag: Get one free checked bag for you — and one each for up to six other guests — when flights are booked on the same reservation.
No mileage cap: Both the 3x bonus miles for Alaska Airlines spending and one mile for all other purchases have no yearly cap. Keep spending and earning to get back in the air sooner.
Miles don't expire: Miles don't expire on active accounts, letting you save rewards for once-in-a-lifetime vacations or use them for weekend getaways.
Travel rewards with Alaska: Save 50% on day passes to the Alaska Lounge and 20% on all inflight Alaska Airlines purchases when using your card.
Spend miles your way: Miles can be redeemed for flights with partners including Aer Lingus, American Airlines, Korean Air, Qantas, Fiji Airways and Finnair.
FICO score access: Get access to your FICO score every month for free via the Bank of America mobile app or online banking portal.
Chip card protection: All cards are protected by chip technology to enhance security and reduce the risk of fraud across 130 countries.
Account alerts: Get email or text notifications letting you know when payments are due when payment transactions have been successfully completed.
Digital wallet technology: Add your Alaska Airlines card to your mobile device to pay with Apply Pay, Google Pay or Samsung Pay and make it easier to pay your way on-demand.
But keep your eyes open for pitfalls
Despite great travel benefits, the are some pitfalls to the Alaska Airlines credit card. First is the annual fee of $75 — many other travel cards come with the first year free or offer no annual fee. In addition, this card's APR is slightly higher than average, especially if cardholders have less-than-perfect credit ratings when they apply.
It's also worth noting that while the companion fare starts at $121, taxes and fees vary significantly across dates and destinations, meaning your companion flight may not be quite so cost-effective depending on where and when you want to travel. And while miles don't expire on active accounts, this protection doesn't apply after account closure, meaning you need a plan to spend your miles if you change credit providers or risk losing your travel benefits.
If travel is your priority but you prefer cards that don't tie your spending to specific providers, consider the Bank of America® Travel Rewards Credit Card. This card comes with a 25,000 point bonus offer when you spend at least $1,000 on purchases in the first 90 days, along with 1.5x points for every dollar you spend, everywhere. This card also includes no annual fee and 0% APR on purchases for your first 12 billing cycles.
If cash back is your preference, consider the Bank of America® Cash Rewards Credit Card. This card offers 3% cash back in the category of your choice — gas, online shopping, travel, dining, drug stores or home improvement/furnishings — along with 2% cash back at grocery stores and wholesale clubs and 1% cash back on all other purchases. Cardholders earn 3% and 2% cash back respectively on all combined category purchases up to $2,500 per quarter and then 1% unlimited cash back.
How to maximize your Alaska Airlines Credit Card Rewards
Maximizing your Alaska Airlines Credit Card rewards means spending with Alaska Airlines whenever possible — from flight bookings to lounge access to checked bags. It also means planning out the best use of your bonus and yearly companion fares to ensure you're getting the best value for your flight redemption. Finally, make sure you're spending and traveling enough to make the $75 yearly fee worth it. Regular fliers will more than get their money's worth, while occasional travelers may not.
Bottom line
If Alaska Airlines is your preferred travel provider, the Alaska Airlines credit card is ready for takeoff — you get all the benefits of travel reward cards with extra, Alaska-only perks. If traveling is your passion but you prefer more broadly applicable points and potential, opt for the Bank of America Travel Rewards Credit Card. If you don't mind miles but would rather have cash back your way, consider the Bank of America Cash Rewards Credit Card.