American Express Blue Cash Preferred® Credit Card Review
January 6, 2020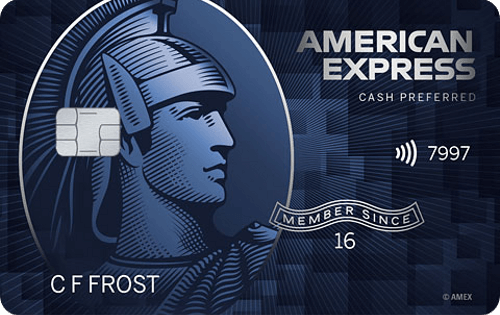 Get rewarded with the American Express Blue Cash Preferred® Card
Spending on clothes, cars and luxury items is fun, but daily expenses can tend to be significantly more mundane. However, that doesn't mean you can't have fun earning cash back on them. If you're a commuter or find yourself at the grocery store multiple times per week, the Blue Cash Preferred® Card by American Express might be the card for you. This cash back card is an intelligent way to earn a significant amount back on all those everyday bills and costs that eat a chunk out of your budget.
What to expect from the American Express Blue Cash Preferred
APR: The Blue Cash Preferred Card offers an introductory APR on both balance transfers and purchases for the first 12 months. After that initial period is over, however, a variable APR kicks in, which ranges from 14.49% to 25.49%. 
Annual Fee: Cardholders pay an annual fee of $95, but if you can maximize your grocery and gas savings, you can quickly neutralize this cost and minimize the impact.
Reward Rates: With an incredible 6% cash back on up to a maximum of $6,000 per year on grocery shopping, 6% on streaming subscriptions and 3% cash back at gas stations and transit costs within the U.S., this card provides serious value for those who want to maximize the cash back opportunities from their day-to-day expenses. Plus, you get 1% cash back on all other purchases. Your cash back is delivered in the form of Reward Dollars, redeemable for a statement credit on your account. 
Intro Offer: Don't forget to include the introductory cash back offer as you weigh the pros and cons of this AmEx card: if you spend at least $1,000 within the first three months of activation, you will get $250 back in the form of a statement credit.
Even better
The American Express Blue Cash Preferred also boasts a series of additional perks beyond mere cash back rewards that may pique your interest, including:
Car rental loss and damage insurance: Renting a car typically involves a choice to opt for insurance to protect the integrity of the vehicle. It's prudent to have but tacks on extra costs. However, if you're an AmEx Blue Cash Preferred cardholder and decline rental insurance, you may still be covered for theft and damage. As a note, not all types of cars or rentals are covered, so be sure to read the terms and conditions. You must also pay for the entire cost of the rental for this policy to apply.
Global Assist Hotline: Travelers may appreciate the Global Assist Hotline perk, which delivers 24/7 emergency access to legal, financial, medical and other essential help when you're 100 miles or more from your home. Services include help replacing your passport, cash wire assistance, lost luggage recovery assistance and other support. As a note, cardholders are still responsible for costs from third-party service providers. 
Return protection: You can return eligible purchases to American Express if the seller doesn't take them back up the 90 days from the original purchase date. American Express may refund the full purchase price minus the costs for shipping and handling, up to $300 per item, up to a maximum of $1,000 per calendar year per card account. The catch is that the purchases must be made within the U.S. or in U.S. territories.
ShopRunner: Cardholders may be eligible for free two-day shipping on certain items at a growing network of over 100 stores with ShopRunner. You can enroll in complimentary membership but, terms apply and a minimum purchase may be required.
Entertainment Access®: You'll get first dibs on ticket presales and exclusive member-only events in cities near you. From sports games to Broadway, cardholders have access to a wide range of activities.
But keep your eyes open for pitfalls
One drawback to this card is the $95 annual fee assessed each year. If you want to avoid paying that annual cost, you can instead choose the Value Cash Everyday Card® from AmEx. This card allows you to earn 3% cash back on the initial $6,000 you spend in U.S. supermarket purchases per year, 2% at gas stations and some department stores and 1% back on everything else with no annual fee.
While cardholders can optimize their card to save a good chunk of change, this may not be the card for you if you want to transfer your card rewards to hotel or travel partners. For the best and most luxurious travel perks, you may want an option like the American Express Platinum Card®, which offers advantages such as airline fee credits, airport lounge access across the world, and Uber VIP status.
How to maximize your card
If you want to make the most of your card, it's important to understand the benefits and how to maximize your cash back earnings. Even with the $95 fee, there are still plenty of ways to make money with the card. For example, let's say that you're part of a large family and you spend $600 per month in groceries at your local grocery store. That's $7,200 a year on groceries. But if you're earning 3% cash back on the first $6,000 you've spent, that's $180 right back into your wallet.
Plus, you earn 1% for every amount you spend over $6,000 so that's another $12 floating right back into your account. You're already in the black after the grocery rewards alone.
If you also add in the $250 rewards bonus for joining, you're up to $442 back in statement credit. And this is before you add in the cash back rewards you can receive from gas, transit and streaming expenses. As long as you pay attention to the categories where you're spending money — gas, groceries and streaming — you can easily counter the $95 annual fee.
Bottom line
The American Express Blue Cash Preferred Card is an excellent cash back card for commuters and families who spend a significant amount of money on gas or groceries. This card is also a practical option for consumers who don't want to unravel the rules around complex rewards programs. The main drawback, the pesky $95 annual fee, is easy to overcome — especially if you can earn the $250 bonus for spending $1,000 with the card during the first three months.