American Express® Gold Card Review
December 19, 2019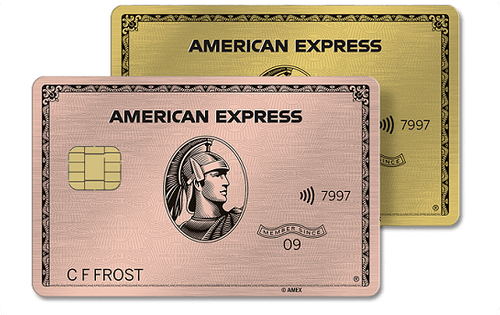 Get rewarded with the American Express® Gold Card
Foodies, this one's for you: the American Express® Gold Card rewards credit card offers gourmands the chance to experience the finer things in life with a high return rate on dining and supermarket expenses. Get your knife and fork ready, because it's time to dig into why the AmEx Gold might be your new favorite dining partner.
What to expect from the American Express Gold
APR: 17.49%-24.49% variable APR
Annual Fee: $250
Reward Rates: Receive 4x Membership Rewards points when you dine at restaurants around the globe. Earn 4x Membership Rewards points at supermarkets in the U.S. up to $25,000 per year (after that, it's 1x). Earn 3x Membership Rewards points on a flight booked directly through airlines or on AmexTravel.com.
Intro Offer: Receive 35,000 Membership Rewards points when you spend $4,000 on eligible purchases within the first three months of your account activation.
Even better
Receive up to $10 in statement credits per month when you use your Gold Card at Seamless, Grubhub, The Cheesecake Factory, Ruth's Chris Steak House, Boxed and select Shake Shack locations. You can receive up to $120 in statement credit each year with this perk. Enrollment is required to take advantage of this benefit.
No foreign transaction fees assessed on purchases made abroad.
Receive up to $100 in statement credits per calendar year for incidental fees at a qualifying airline.
Personalized travel service is available for ground service, booking flights and hotel accommodations.
Enroll in the Travel Collection by Travel Leaders Group and receive travel discounts and other travel perks.
Global Assist Hotline provides you with emergency assistance if you're more than 100 miles from home.
Baggage insurance plan ensures that any card member's eligible lost, stolen or damaged baggage is covered up to $1,250 for carry-on luggage and up to $500 for checked bags.
Car rental loss and damage insurance protects you if you pay the full price of the rental vehicle on your AmEx card. You may be covered if your rental is damaged or stolen.
If you book through the American Express travel site, you can pay for a portion or all of your flight, hotel or other travel expenses with your Membership Rewards points.
Card members enjoy exclusive access to event presales like musical concerts and sports games.
But keep your eyes open for pitfalls
Although the AmEx Gold card has a lot to offer, there are a few major drawbacks. As is the case with many rewards credit cards, with great rewards come great fees. The annual fee of $250 is easy to overcome if you pay attention to where you spend your money, but if you're not great at monitoring those kinds of details, that fee can be a drag to see tacked on at the end of the year.
Another drawback to this card is the rewards structure, which can be a little intimidating for the average credit card user to figure out. Sure, you can get $120 in statement credits at some restaurants, but they can only be acquired in $10 amounts on a monthly basis. With each perk comes a host of terms of conditions you must understand in order to get the most benefit from the rewards.
Other factors to think about include your travel plans and your travel expectations. Are you planning on going abroad? You'll need to remember that AmEx isn't accepted everywhere compared to the more widely used Visa and Mastercard. And, speaking of traveling, there's no membership to any airport lounges if you're partial to those kinds of perks.
If you want a simpler rewards structure, you should consider a flat-rate cash back card like the Citi Double Cash card, which offers cardholders 2% cash back on everything. You'll earn 1% when you purchase something and earn the second 1% when you pay the bill for that purchase. No annual fees make this a straightforward option for those who prefer simplicity without worrying about how to book a flight with points and other hassles involved with rewards cards.
Alternatively, if you don't mind monitoring bonus categories and enjoy strategizing how to make the most from your card, you might want to check out the Chase Freedom that offers 5% cash back on up to $1,500 on eligible purchases. New 5% bonus categories are announced each quarter, and you'll earn 1% back on everything else.
The AmEx Gold is a strong contender for those who regularly go out to eat and need a card that reflects their foodie lifestyle and spending habits.
How to maximize your American Express Gold rewards
The best way to maximize your American Express Gold rewards is to keep track of those credits ($220 potential credits in all). If you can use both the $100 airline fee credit and the $120 fee credit, you've already almost neutralized the annual $250 fee.
Another way to make your AmEx Gold card work for you is ensuring you hit that $4,000 minimum spend within the first three months of your account opening. The 35,000 miles you get translates into $350 of statement credit you can apply to your future travel plans.
Bottom line
The American Express Gold Card is perfect for travelers who can take advantage of the built-in credits that come with the card. If you're a big spender on food in supermarkets and restaurants, this card can help you optimize your dining habits so you're earning points that can be transferred to select travel partners for your next big vacation. While it's not a great card for those who tend to carry a high balance on their credit card from month to month or those trying to save money, it can be a great addition to a travel-savvy credit card user's arsenal.