Bank of America® Travel Rewards Credit Card Review
December 19, 2019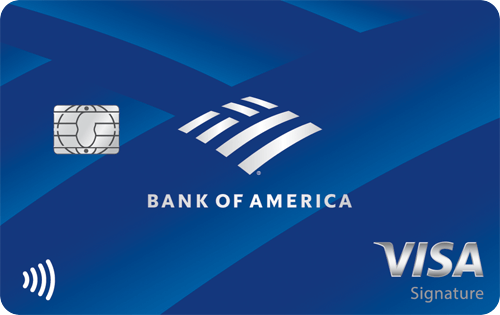 Get rewarded with Bank of America® Travel Rewards Credit Card
The Bank of America® Travel Rewards Credit Card is a smart travel rewards option with no annual fee and a dependable flat rate that applies to all purchases. You can earn an unlimited amount of points at a rate of 1.5 points on every dollar spent. If you're already a Bank of America customer, you'll enjoy some practical benefits you can apply to pre-existing accounts.
What to expect from the Bank of America Travel Rewards Credit Card
APR: 0% intro APR on purchases for 12 months; then 16.74%-24.74% variable APR
Annual Fee: $0
Reward Rates: Earn unlimited 1.5x points for every dollar you spend. Your rewards points don't expire as long as your account is active, and there are no blackout dates to keep in mind as you plan your travel.
Intro Offer: Earn 25,000 bonus points if you spend at least $1,000 in purchases in the first three months of your account activation. This bonus translates to a $250 statement credit redeemable for travel expenses.
Even better
You can redeem points for statement credit to pay for expenses such as airline flights, hotel accommodations, cruises, rental car costs or baggage fees. This flexible rewards structure isn't tied to a particular airline or travel partner, so cardmembers have several options for redeeming rewards.
If you're an existing Bank of America customer, you can apply for overdraft protection to avoid declined charges on eligible checking accounts. 
Cardholders can opt for paperless statements for more secure banking.
Digital wallet technology is available for convenient payment options on-the-go.
Account alerts allow cardmembers to stay on top of your balances and payment dates. Choose from email or text alerts so you can always anticipate your next bill.
If you opt into the service, you can view your FICOScore for free with the mobile banking app or through online banking.
If you're making an international purchase, there are no foreign transaction fees to worry about.
The integrated chip technology better protects sensitive banking information in more than 130 countries.
The Visa network means this card is widely accepted across borders and across the U.S. compared to limited-use cards like Discover or American Express.
Bank of America uses a broad definition of travel that includes purchases for places like carnivals, aquariums, zoos, art galleries and campgrounds, so you can still earn on non-traditional travel expenses outside of flights, hotels and car rentals.
But keep your eyes open for pitfalls
Although the Bank of America Travel Rewards card is a great no-frills option for the unfussy credit card user, it is more restrictive than just a regular cash back card and other travel reward cards. If you regularly put large amounts of money on your credit card and you're fine paying an annual fee for better travel perks, there are other options potentially more suitable to your preferences.
For example, the Chase Sapphire Preferred Card may be a good option. You can earn two points for every dollar you spend on dining and travel expenses, and earn one point for every dollar you spend elsewhere. Since it's not associated with a particular airline, this card gives users more flexibility in how they use their travel rewards. Although there is a $95 annual fee, it's easy to overcome that cost with the sign-on bonus of 60,000 points after spending $4,000 on purchases within three months. With those benefits in mind, there is a lack of airline-specific perks like priority boarding since it's a broader rewards card.
The Bank of America card is still an excellent option for credit card users who already have an existing Bank of America account — we'll explain why below.
How to maximize your Bank of America Travel rewards
If you end up choosing the Bank of America Travel Rewards card, there are strategies you can employ to make the most of those rewards. First and foremost, you should look into becoming a Bank of America Preferred Rewards member because it unlocks a higher rewards rate: three points for every dollar you spend at the Bank of America Travel Center — that's double the regular earning rate.
Becoming a Preferred Rewards member is a great way to ensure you're optimizing your Bank of America Travel rewards program. By joining the Preferred Rewards, you can earn more rewards at a higher rate depending on what tier you fall into. Your rewards tier is determined by the combined pre-existing account balances you have through Bank of America.
Let's see how this would work out in a real-life example: if you're an existing Bank of America customer with a combined balance of $20,000, you would be eligible for a rewards bonus of 25% at this tier. You'd also start earning at a new rate of 1.875 points per dollar spent. And you'd earn 3.75 points for every dollar spent at the Bank of America Travel Center. So, one of the best ways to maximize your experience with this card is to leverage your existing Bank of America accounts to double your rewards earning potential or more.
Bottom line
For credit card users who don't want to deal with the hassle of rotating rewards categories or being married to a particular airline, the Bank of America Travel Rewards card is an excellent choice. It allows users with a flat-rate rewards structure that can be multiplied if you're already a Bank of America customer and join the Preferred Rewards program. This is an ideal choice for cardholders who value unlimited travel redemption options.