Capital One Platinum Credit Card Review
January 8, 2020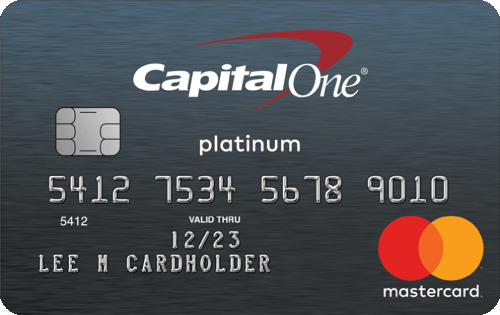 Get rewarded with the Capital One Platinum Credit Card
Looking for a credit card when your credit score isn't as high as it could be can seem like a challenge. However, you may be in luck. The Capital One Platinum Credit Card could be a useful option for users who are just starting to build or rebuilding their credit.
To qualify, you only need an average credit score, which is typically between 600-699 – which is more achievable than many other card requirements out there. With this Capital One card, you won't get the cash back or travel rewards that other card options offer, but if that's not your top concern, this option is worth looking into.
Plus, the fact that it rewards cardholders for responsible actions could incentivize people to fix their credit. Here's why the Capital One Platinum could be a great first credit card.
What to expect from the Capital One Platinum Credit Card
It helps to begin with the basics when you're researching possible credit cards. Here's our breakdown:
APR: 26.99% variable
Annual Fee: $0
Rewards Rates: This card doesn't offer rewards.
Intro Offer: Get rewarded for on-time payments. Receive a credit line increase after paying your bill on time for the first five months.
Even better
There are several more benefits to being a cardholder that could be worth your time.
Lower credit score to qualify. To qualify for this card, you only need an average credit score. This lower requirement is excellent for cardholders still building up credit.
No liability on fraud. For any fraudulent charges made on your account, you won't be responsible for paying them off. Enjoy peace of mind that comes from knowing you're not on the line if someone uses your card illegally.
No extra fees abroad. Don't pay foreign exchange fees when you travel overseas. These fees are small but add up on each transaction, so you'll save money on your overall trip expenses.
Travel protection. Receive trip insurance and car rental insurance when you make the booking using this card. Also, gain access to an all-day travel assistance hotline for any hiccups you encounter.
But keep your eyes open for pitfalls
Because it's meant for individuals with lower credit scores, this card carries a very high APR. Generally, the higher the risk, the higher the interest. By paying this card off each month before you earn interest, however, you can avoid this problem altogether. You'll want to make sure you don't spend more than you can realistically pay for each month, or you'll find yourself wracking up lots of interest.
Furthermore, this card has no rewards program. Many other cards offer a specific percentage back on each of your purchases, but this one doesn't give you anything back for using the card. However, some customers don't mind not getting rewards back — especially those with lower credit scores who might not be able to qualify for other cards with a more lucrative rewards structure.
Are you searching for a rewards card that accepts applicants with average credit? Try the QuicksilverOne credit card from Capital One. This card does carry an annual fee, but it's a low one at $39. You'll earn 1.5% cash back on all your purchases and receive access to higher credit after making five consecutive payments before they are due. Everything else — the APR, the travel protection — is the same with this card as with the Platinum card.
How to maximize your Capital One Platinum Credit Card rewards
How do you get the most out of this credit card? Make a timely payment. This action is the fastest way to increase your credit score while also learning good personal finance habits. Don't get stuck paying for interest on the money you already spent. Instead, plan to only put as much on the credit card as you can reasonably pay off each month.
After you pay your bill on time for the first five months, you'll receive an increase in your credit limit. Increasing your limit is an excellent way to increase your credit score, as it will lower your credit utilization ratio. People with higher credit scores typically have a lower credit utilization ratio.
Also, use the card for travel. With the travel protection and the no foreign transaction fees, you would likely be better off using this card than another one that would charge per purchase overseas. No transaction fees mean you can worry less about your finances while you're exploring the world.
Bottom line
The Capital One Platinum Credit Card could be the right fit for someone who needs to build or rebuild their credit. Whether you're a student or made poor decisions in your past, the Capital One Platinum credit card is a winner. By rewarding you for making smart financial decisions, the card could act as a financial teacher. Plus, no annual fee makes the card extremely enticing.
However, if you can qualify for another card, you might want to find something with a rewards program. This card doesn't offer its members any cash back, travel or points rewards, which will be a dealbreaker for some. Additionally, its introductory bonus is less enticing than many cards out there, since it only offers a credit line increase.
Overall, this card is excellent for someone who needs to increase their credit score. Making timely credit card payments is a fantastic way to do just that.