Capital One Venture Rewards Credit Card Review
December 19, 2019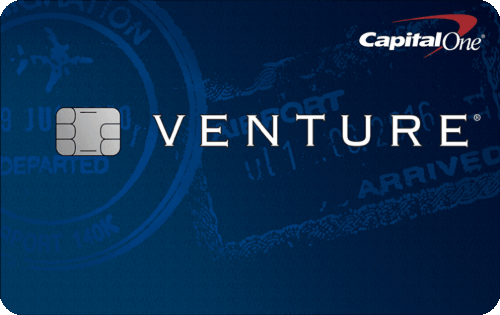 Get rewarded with the Capital One Venture Rewards Credit Card
With one of the best rewards programs available, the Capital One Venture Rewards card lets users transfer their miles to certain airline partners while earning 10X miles at Hotels.com.
The card has a low $95 annual fee, waived for the first year. Its rewards program is simple enough for travel card newbies and lucrative enough for seasoned travel credit card users. The attention-getting sign-up bonus is worth 50,000 miles and is easy to redeem for credit toward past travel purchases made with the card. You can also use those miles with one of Capital One's airline transfer partners.
What to expect from the Capital One Venture Rewards Credit Card
APR: 17.49%, 22.24% or 24.74% APR, variable and based on creditworthiness.
Annual Fee: $0 for the first year and $95 after.
Reward Rates: Unlimited 2X miles per dollar on every purchase made with the card and 10X miles on purchases made through Hotels.com/venture.
Intro Offer: 50,000 bonus miles when you spend $3,000 in purchases with the card during the first three months.
Even better
Excellent bonus deals. Until November 30, 2019, you can get a 20% bonus on miles transferred to Flying Blue. You can also enjoy 10X miles at Hotels.com until January 2020. Keep an eye out for future deals as well. 
There's no limit to how many miles you can earn with the Capital One Venture Rewards credit card, so it makes sense to use this as your card for everyday spending as well as for larger one-time purchases. 
Up to $100 statement credit on TSA PreCheck and Global Entry application fees, which saves you both time and money if you're a frequent flyer.
Zero foreign transaction fees, meaning this is a great card to have in your wallet while abroad.
Redeem your miles for hotels, cruises, car rentals and even ride-sharing apps. You aren't restricted to airline purchases.
Capital One partners with a number of airlines to help you snag the best rewards travel, including Singapore Airlines, Qantas, Qatar, Hainan, Finnair, Etihad, Emirates, Cathay Pacific, Avianca, Alitalia, Air France/KLM, Air Canada and Aeromexico. 
But keep your eyes open for pitfalls
This may not be the best card to use if you want to also earn hotel points or get certain airline perks. For travelers who want to find the highest possible value with a travel rewards card, the Chase Sapphire Preferred credit card may be a better choice. It also has a $95 annual fee and you'll earn two miles for every dollar spent on travel and restaurant purchases and one point on all other purchases. Chase Ultimate Rewards miles transfer to several popular travel programs with a one-to-one value, making them a versatile travel rewards option.
Capital One miles could transfer to certain travel partners at a rate of less than one cent per mile, so when using a Capital One travel partner to redeem miles, make sure you are getting at least that value.
For cardholders who habitually carry a balance, the APR here should raise a red flag. There isn't a low or no-interest introductory period, so this card is best for users who pay their balance off each month.
How to maximize your Capital One Venture Rewards Credit Card rewards
The first order of business when you get your new Capital One Venture Rewards credit card should be to make a plan to spend $3,000 with the card within 90 days of opening the account. Mark your calendar and figure out which expenses you can take care of with this card. The bonus reward is 50,000 miles, which has a $500 value if you simply redeem the miles for statement credits at the one point to one cent ratio to cover travel charges made within the past 90 days. Since there isn't a minimum redemption threshold, go ahead and take care of even small expenses to make sure you don't miss out on any of those 50,000 bonus miles.
If you decide to use your rewards miles with a Capital One airline partner, the average transfer ratio is typically 2:1.5. This means 4,000 Capital One miles equals 3,000 airline miles. You can transfer miles as soon as you have 1,000 built up. If you want to maximize your miles value, hunt for the best possible transfer rate. If you can't find the flight you want with a decent transfer ratio, you may be better off simply using your reward miles as statement credits for travel purchases.
If the simple rewards earning program is what drew you to the Capital One Venture Rewards card, consider pairing it with a highly rated cash back card like the Citi Double Cash card. Both the Capital One Venture Rewards card and the Citi Double Cash card are best for those who pay off their balances each month. With the Citi card, you'll get 0% introductory APR for the first 18 months that you own the card on balance transfers. So, if you have a few high-interest cards with balances, you could save some money by moving that debt to the Citi Double Cash card, which frees up more of your budget to cover your next trip.
The Citi Double Cash card doesn't have an annual fee, and you'll get unlimited 1% cash back on purchases plus and an additional 1% cash back when you pay for the purchases. Use those cash rewards to pay for travel-related expenses that you can't cover with Capital One miles. 
Bottom line
The Capital One Venture Rewards credit card is a great option for casual travelers who want a simple travel rewards card with a low annual fee and a straightforward rewards program.
With 2X miles on every purchase, rewards could pile up fast. You have some options for how to redeem your miles, but be sure to transfer miles to airline partners with caution. Make sure you get at least a 1:1 ratio before you part with your valuable Capital One rewards.