Capital One VentureOne Credit Card Review
December 19, 2019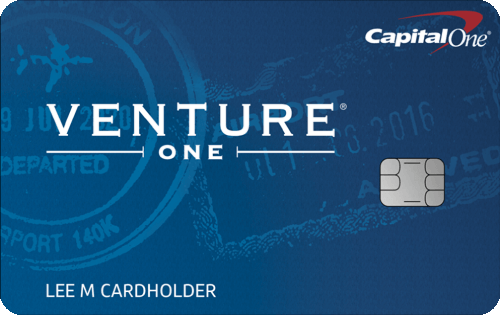 Get rewarded with the Capital One VentureOne Credit Card
If you're shopping for a travel rewards credit card but don't want to pay an annual fee, the VentureOne Rewards from Capital One card warrants a close look. You'll get 1.25x miles on every purchase with no limits. Miles don't expire, and you can transfer them to 15 of the largest travel loyalty programs or redeem them for past travel purchases. Spend just $1,000 with the card within 90 days of opening the account, and you'll get a bonus of 20,000 miles, which equals $200 of travel.
What to expect from the Capital One VentureOne Credit Card
APR: 0% intro APR on purchases for 12 months, then the standard variable purchase APR of 13.74%-23.74%.
Annual Fee: $0
Reward Rates: Unlimited 1.25 miles for every dollar spent with the card.
Intro Offer: 20,000 bonus miles after spending $1,000 with the card within the first three months.
Even better
No limit on how many miles you can earn, and your miles never expire, meaning you can save up for a big trip several years from now.
No foreign transaction fees, meaning you can spend more while abroad without fear.
Versatile reward redemption: Redeem points for past travel purchases, buy gift cards with points, book travel through Capital One's portal or redeem for cash back.
Transfer your Capital One rewards miles to any of 15 loyalty travel partners. Since redemption rates vary, just make sure you note the number of miles you'll get with the transfer partner after the transaction and verify that you'll get at least a one-cent value per mile.
But keep your eyes open for pitfalls
Capital One VentureOne doesn't offer rewards for balance transfers, nor does it extend the introductory 12-month 0% APR to balance transfers. If you want to move credit card debt over from a high-interest card, you may be better off with the Chase Freedom Unlimited credit card. It offers 0% APR on balance transfers for the first 15 months and there's no annual fee. You'll also get unlimited 1.5% cash back, which is equivalent to Capital One Venture's 1.5 miles per dollar spent rewards rate.
Credit card users who charge more than $1,000 each month may receive a better rewards rate with the Capital One Venture. This card has a $95 annual fee, but those who spend at least $1,056 with the card each month receive rewards that outweigh the annual fee. Ongoing travel rewards with the Capital One Venture are unlimited 2x miles redeemable for any airline, hotel or travel purchase. The welcome bonus is 50,000 miles after spending $3,000 in purchases with the card within 90 days of opening the account.
If you want the option of redeeming points for cash back, you'll get that with the Capital One VentureOne card, but be aware that Capital One reduces the value of each mile by half. You'll get .05 cents for each mile in a cashback scenario. If you think you'll want to redeem miles for cash back, check out the Discover it credit card with no annual fee and 5% cashback on rotating categories each quarter.
How to maximize your Capital One VentureOne Credit Card rewards
For credit card users who spend more than an average of $350 per month with their cards, it may be best to combine the Capital One VentureOne card with another rewards credit card.
Capital One allows two Capital One-branded credit cards per user. So, it's possible to use two cards with rewards programs that fit your spending patterns.  For example, the Capital One Savor One rewards card offers unlimited 3% cash back on entertainment and dining, 2% cash back at grocery stores and 1% on everything else. There's no annual fee. 
So, it makes sense to use the Capital One Savor One card in spending categories where you'll earn more, and then use the Capital One VentureOne card for everything else.
You may want a bit more flexibility with your spending categories when it comes to getting extra rewards. You can use the Chase Freedom card and get a sign-up bonus of $150 after spending just $500 with the card within the first three months. With this card, you'll choose a rotating spending category and get 5% cash back up to $1,500 in purchases each quarter. After reaching the limit, you'll get 1% cash back. At this point, it makes sense to use the Capital One VentureOne card to get 1.25 miles for every dollar spent.
To get the most value out of your Capital One miles, you have several redemption options. The Purchase Eraser allows you to apply your miles at a rate of one cent for one mile to any travel purchases on your Capital One card statements within the past 90 days. Capital One's definition of travel is broad; you can erase purchases including bus tickets, cruise lines, timeshares, travel agents, hotels, car rentals and airlines. Capital One miles are also redeemable for gift cards at a rate of one cent per mile. While you can redeem miles for cashback, it's best to avoid this scenario. You'll get only 0.5 cents per mile, which cuts the value of your rewards in half.
While booking new travel through Capital One is also an option as a way to use your accumulated miles, doing so prevents you from earning points through various travel portals. For example, if you book travel through an online travel agency, you could reap rewards associated with their programs. You'll get more value from your miles by booking travel directly, gathering the perks and rewards from the airline or hotel loyalty program, and then using miles to erase the purchase after it posts to your account.
Bottom line
The Capital One VentureOne card is best for those who want a travel rewards card with a simple program, but don't plan to spend more than $1,000 each month with the card. Light spenders who realize that they won't rack up rewards that exceed the value of an annual fee may find that this card is an ideal match. You'll qualify for the bonus miles promotion after spending an average of $334 per month with the card. If that sounds like a comfortable spending level, this may your best bet for a travel rewards card.