Chase Freedom Credit Card Review
December 19, 2019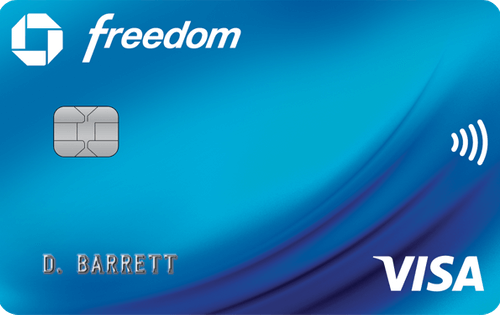 Get rewarded with the Chase Freedom
If you want to earn cash back rewards just for using your credit card, using the Chase Freedom credit card is a hassle-free option. Every purchase automatically earns 1% cash back. You can earn up to 5% cash back on up to $1,500 worth of purchases each quarter on specific categories, too. You can also get a nice cash reward welcome offer of $200 when you spend $500 on purchases within the first three months of opening your card account.
The Chase Freedom credit card is available to those with good to excellent credit. You won't have to worry about hefty fees, at least with 0% intro APR in the first 15 months after opening your account. Besides the cash back-friendly benefits, Chase Freedom provides cardholder-friendly perks like travel protection, purchase protection, extended warranty protection and fraud protection.
The concierge-like benefits built into the card make it an attractive choice for those interested in cash back bonuses with every purchase.
What to expect from the Chase Freedom card
APR: 0% introductory APR for 15 months on purchases and balance transfers. After the first 15 months, there is a variable APR of 16.74%-25.49%.
Annual Fee: $0
Reward Rates: Earn 5% cash back on up to $1,500 in specific categories each quarter when you turn them on. Earn 1% cash back on all other purchases automatically.
Intro Offer: After spending $500 on purchases within the first three months of opening your card account, get $200 cash back.
Even better
Cash back rewards don't expire as long as your account is open, and there is no minimum to redeem for cash back. You can receive a statement credit or direct deposit into most U.S. checking and savings accounts. You can even instantly redeem cash back rewards to pay for all or part of eligible Amazon.com orders at checkout, including tax and shipping.
You can use Chase Ultimate Rewards to book travel for competitive rates and flexible payment methods.
Get travel benefits like reimbursements of up to $1,500 per person and $6,000 per trip for pre-paid, non-refundable passenger fees if your trip is canceled or halted by covered situations like an injury or sickness.
Purchase protection covers new purchases for 120 days against damage or burglary up to $500 per claim and $50,000 per account.
With zero liability protection, you won't be responsible for unauthorized charges made with your account information or Chase Freedom card.
Real-time fraud monitoring keeps track of transactions for possible fraudulent activity. Get fraud alerts by phone, text or email when unusual activity occurs.
Extended warranty protection lengthens eligible U.S. manufacturer warranties by an additional year.
With the auto rental collision damage waiver, you can turn away collision insurance from a rental company and charge the entire rental cost to your card. Coverage is provided for theft and collision damage for most cars in the U.S. and abroad. In the U.S., coverage is secondary to personal insurance.
Chase's travel and emergency assistance services provide legal and medical referrals or other travel and emergency assistance when you're away from home.
If you have a roadside emergency, you can call for dispatch help any time. Services include towing, jumpstarts, gas delivery, tire changes and lockout service. Roadside service fees are provided when you contact and will be billed to your card.
But keep your eyes open for pitfalls
Some customers have complained that they've been scammed by businesses (like getting low-quality clothing from fraudulent companies abroad), but when contacting Chase for a refund, they were out of luck. Some customer reviews also state customer service has been spotty. If you're a loyal customer but accidentally miss a payment, the fees are still high. Other cardholders have stated credit limits are slow to rise, despite on-time payments and loyalty.
Cash rewards may be low compared to other cards. For example, the Citi Double Cash Card offers 2% cash back for all purchases, with no special categories to keep track of. Also, with Chase Freedom, you have to remember to activate your extra cash back deals in order to get the 5% cash back. If you're forgetful or don't think you can stay on top of the activation, this perk may not be meaningful.
Despite the travel benefits mentioned, the Chase Freedom card charges foreign transaction fees of 3%, which may not be good for international travelers. Some customers have stated that fraud protection can go overboard, preventing them from making purchases they want to make by unnecessarily declining transactions.
How to maximize your Chase Freedom rewards
If you want to get the most cash back rewards possible, make sure you're activating your rewards every quarter. If you live in a household where you share spending duties with a partner, you can add an authorized user to your card to maximize cash back rewards on all purchases, including 5% bonus purchases. Each quarter has different cash back categories designated for the 5% cash back, such as gas stations, drugstores, grocery stores or streaming services, so make sure you're using your card at the right stores.
You can get more value out of your cash back points when you redeem Chase Ultimate Rewards through the Chase Rewards website. Shop for a variety of gift cards and certificates for shopping, dining and entertainment and more to get more value from your spend.
You can also get up to $500 cash back a year by referring friends to get a Chase Freedom card. If you have the Chase Freedom card, you can earn $50 cash back for each friend that gets approved for the card through the referral program.
If you want to consolidate credit card balances and save on interest, you can use Chase Freedom balance transfer services. Keep your credit score in good standing by checking it any time with the free Chase service Credit Journey, with no impact on credit.
Bottom line
The Chase Freedom credit card is a solid option for cardholders who want their main credit reward to be cash. You'll need to diligently activate your 5% cash back rewards each quarter to maximize your rewards. But with rewards typically being in everyday spending categories that most households use, it's possible to get high cash back rewards for what you usually purchase.
The Chase Freedom card also has other qualities you'd want from a secure credit card, like fraud detection, 24/7 customer service, paperless billing, anytime online statement access and contactless capabilities with apps like Chase Pay, Apply Pay, Google Pay and Samsung Pay.
If you want simple cash back without having to track categories, the Capital One Quicksilver card offers similar 0% introductory APR for 15 months and no annual fee, with a flat 1.5% cash back on all purchases. The Discover it Cash Back is similar to Chase Freedom, in that you get 5% cash back in certain categories each quarter as long as you activate them, plus unlimited 1% automatic cash back on other purchases. That card has different perks like a cash match-back in the first year and a lower variable APR after the first 14 months.