Chase Freedom Unlimited credit card Review
January 6, 2020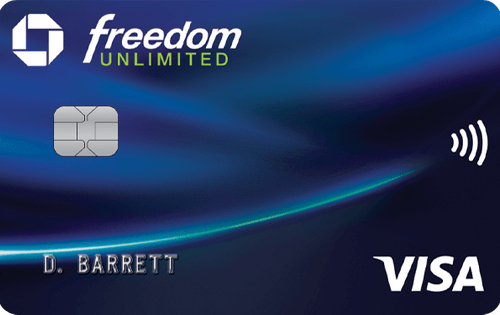 Get rewarded with the Chase Freedom Unlimited credit card
Chase offers one of the few credit cards with unlimited 1.5% cashback on all purchases without an annual fee.
For consumers, this means rewards begin accumulating with the first charge placed on the card, and the annual fee won't decrease the net gain enjoyed as a result of the Chase Freedom Unlimited credit card's rewards program.
What to expect from the Chase Freedom Unlimited credit card
APR: 16.74% to 25.49% APR after 0% introductory period: The introductory APR is 0% on purchases and balance transfers for the first 15 months you own the Chase Freedom Unlimited card. After that, you'll pay a variable APR of 16.74% to 25.49% if you decide to carry a balance from month to month on the card.
Annual Fee: This card is unique among rewards credit cards offering a flat rewards percentage across all purchases. 
Reward Rates: This card has a flat 1.5% rewards rate on all purchases. While you can redeem the rewards for cash, you can also get gift cards, travel and Amazon.com merchandise. 
Intro Offer: You'll have access to a welcome bonus of $200 if you spend $500 with the card within 60 days of opening the account. 
Even better
Chase Freedom Unlimited cash back rewards never expire, so feel free to let them pile up to fund your next big trip or to help you save toward an important financial goal. 
If you prefer to redeem your cash back rewards regularly, rest assured that there is no minimum amount required to access earned rewards. You can choose to have the cash back balance redeemed to your card, link the card to Amazon.com and pay for purchases with rewards or transfer the rewards balance to a U.S. checking or savings account. 
There's also no limit on cash back rewards, so for people who are heavy credit card users who routinely pay their balance each month, this could be a perfect choice. 
Like many credit cards, the Chase Freedom Unlimited card comes with some important perks. Purchase Protection gives cardholders an extra safety net when it comes to protecting purchases from theft or damage. The service offers coverage for 120 days up to $500 per claim with a maximum of $50,000 per account. 
You'll also enjoy an extended warranty that adds another year to the manufacturer's warranty on eligible items purchased with the card when the manufacturer's warranty is three years or less.
But keep your eyes open for pitfalls
For credit card users who routinely carry a balance on their credit cards, the interest rate is on the high side. Your introductory 0% APR is good for an entire year plus three months, but mark your calendar so you can be prepared to pay a much higher interest rate on any balance you carry from month to month after the introductory period ends.
Cardholders must spend an average of $250 per month for two months to reach the spending threshold of $500. Doing so means you'll get a $200 bonus reward for being a new Chase Freedom Unlimited card user. For those who don't spend that much money with credit cards, this could present a challenge. Keep in mind that you could make one large purchase, if the credit limit on the card is high enough, and take care of the $500 spending requirement right away. Then, use the card as you normally would.
If you decide to transfer balances from other cards within 60 days of opening the account, you'll pay a 3% introductory balance transfer fee, or $5, whichever is more. After the first 60 days, balance transfer fees are 5%, with a minimum of $5.
How to maximize your Chase Freedom Unlimited card rewards
Chase Freedom Unlimited offers a straightforward rewards program with no limits as to how much you can accumulate before you must redeem rewards. For this reason, it's a great first-choice card for people who don't want to keep track of quarterly categories.
To maximize the card's effectiveness, consider paying for everyday purchases, subscriptions and even bills that allow payment via credit card to help boost rewards.
If you spend an average of $1,325 per year with the Chase Freedom Unlimited credit card, you'll have $318 of rewards to spend at the end of the year.
One significant benefit of owning this card is the ability to transfer points between any of the five available Chase credit cards. For those who are comfortable with using more than one card and don't mind watching rotating bonus reward categories closely, the Chase Freedom Unlimited is excellent paired with the Chase Freedom credit card.
For example, if you use the Chase Freedom card for all spending in the 5% rotating bonus category until you hit the $1,500 per quarter limit, you'll maximize rewards on certain everyday purchases. In the past, Chase Freedom has offered a 5% reward rate on tolls, select streaming services, department stores, gas stations, drugstores, home improvement stores and grocery stores. 
After reaching the quarterly limit, simply use the Chase Freedom Unlimited credit card for all purchases and enjoy 1.5% cash back. The Chase Freedom card is the other card (out of five Chase cards available) that does not charge an annual fee. Purchases that don't qualify for 5% cash back automatically get 1% cash back with the Chase Freedom credit card. 
Bottom line
The Chase Freedom Unlimited credit card is a smart choice for people who want a straightforward rewards program with a flat percentage and a low introductory APR.
The $200 welcome bonus is a nice treat, especially considering that it's not that tough for many cardholders to spend $500 with the card during the first 60 days.
There's a definite advantage to using this card in combination with other Chase cards. The Chase Freedom credit card is a good option with no annual fee. Together, the Chase Freedom Unlimited card with its straightforward 1.5% cash back rewards program and the Chase Freedom card with 5% cash back on rotating categories make a great rewards-earning team. 
For those who aren't familiar with the Chase rewards program, the Chase Freedom Unlimited card is an excellent option.