Citi Double Cash Card Review
December 19, 2019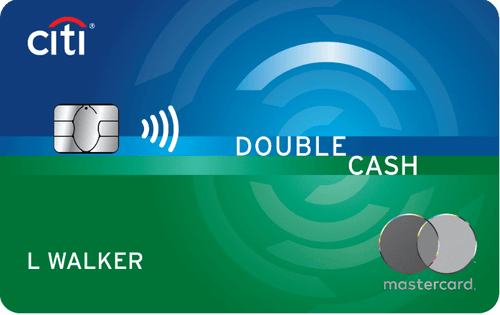 Get rewarded with the Citi Double Cash Card
Consumers have a wide range of credit card choices these days, which is both a benefit and a drawback. If you're the type of cardholder who loves to strategize different ways to maximize credit card rewards, you'll have many opportunities to do so. But, what if you're looking for a no-frills, straightforward card option you can rely on?
Enter: the Citi® Double Cash Card. Uncomplicated rewards and a high cash back rate make this an excellent choice for those who prefer a flat cash back card that doesn't require spending category monitoring. As the name suggests, the Citi Double Cash Card multiplies the typical 1% cash back rate many credit cards offer. Consumers will be hard-pressed to find another cash back card as uncomplicated yet rewarding as the Citi Double Cash Card.
What to expect from the Citi Double Cash Card
APR: The variable APR ranges between 15.49% to 25.49% based on your financial standing and creditworthiness.
Annual Fee: $0
Reward Rates: The main benefit of the Citi Double Cash Card is the 2% cash back reward on every purchase. The catch here is that you don't get the full cash back immediately. You'll receive 1% cash back when you complete a purchase, and then you'll collect the other 1% when you pay your credit card bill. To earn the cash back, you must pay the minimum due on time each month.
Intro Offer: If you're interested in processing a balance transfer, take advantage of the introductory balance transfer offer of 0% APR for 18 months.
Even better
Besides 2% cash back, Citi Double Cash cardholders will also enjoy other benefits that provide a well-rounded experience.
Citi entertainment: cardholders will enjoy exclusive access to events including dining experiences, music concerts and sports games.
Fraud protection for 24 hours: Citi will alert you promptly if unusual activity pops up on your account so you can take action as fast as possible.
Citi identity theft solutions: You'll have a dedicated Citi team available to help resolve identity theft problems so you can get back to your life.
The Lost Wallet Service: Citi will replace a lost or stolen card within 24 hours along with emergency money up to the available cash advance limit to help prevent disruptions in your routine.
There's $0 liability for unauthorized charges: Cardholders won't be on the hook for unauthorized charges that occur either online or at any in-person vendor.
Contactless pay: A contactless chip-enabled card means that you simply need to tap the payment reader where accepted.
But keep your eyes open for pitfalls
Although the Citi Double Cash card has serious cash back heft, there are a few drawbacks. There isn't a sign-up bonus, there is no 0% introductory APR period for purchases and you must have at least $25 in cash back credit to redeem it.
While the Citi Double Cash card offers cardholders 2% cash back on all purchases, other cards offer up to 5% cash back on certain spending categories — but that involves a little more effort since you have to monitor the rewards of quarterly category cards. If you're ready to expend more effort to make more, you may want to consider a card like the Chase Freedom, which allows you to earn 5% cash back in bonus spending categories each month.
If cardholders plan to travel internationally, it's best to use a different card since the Citi Double Cash Card charges a 3% foreign transaction fee.
And if you need a balance transfer, be prepared for a transfer fee of either $5 or 3%, whichever is higher. While the balance transfer fee isn't astronomically high for the market, it's still a reasonable amount, especially if you transfer a large balance. For instance, if you complete a balance transfer of $12,000, you'll be hit with a $360 fee. Ouch. Even worse, balance transfers don't earn cash back. If you transfer a balance, interest will accrue on your purchases unless you pay the full balance by the due date each month.
Another drawback you should keep in mind is that the cash rewards balances "expire" if you don't earn cash back from payments or purchases for 12 months. So, if you decide to stop using the card, make sure you double-check for any cash rewards first. Otherwise, you could be losing out on money you've earned.
How to maximize your Citi Double Cash Card
One of the best benefits of this particular card is the cash back structure that encourages responsible payment behavior. That's because the sooner you pay off your credit card bill, the sooner you receive the second half of your cash back reward of 1%. For example, let's say you make a purchase that costs $2,000. At the time of purchase, you'll immediately earn a cash back return of $20. When it's time to pay your credit card bill, you'll receive another $20 back.
Another benefit of this card is being able to rely on it for well, everything. You don't have to think twice about what category is earning cash back a certain month; you just use your Citi Double Cash Card and receive the 2% cash back reward. This simplicity is great for cardholders who don't want to keep tabs on revolving reward categories.
Bottom line
For consumers who want a flat-rate, straightforward cash back card, the Citi Double Cash Card is an intelligent choice. The rewards have no cap and apply to everything you buy. This simple card may be the right choice for those looking for an easy answer to credit card rewards redeemable in the form of a statement credit, a bank account deposit or a check.