Disney Premier Visa Credit Card Review
January 15, 2020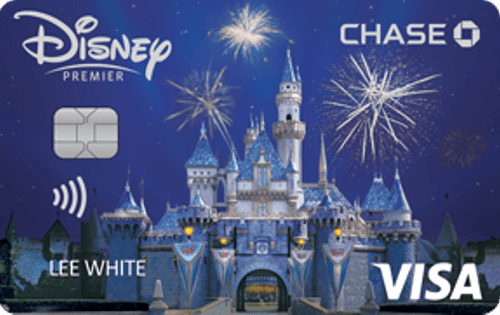 Get rewarded with the Disney Premier Visa
Love all things Disney? You may want to add the Disney Premier Visa card from Chase to your collection. With this card, you'll earn Disney Rewards Dollars on all purchases, even those that aren't Disney-related. Redeem your Disney Rewards Dollars on Disney experiences like Disney theme park tickets, Disney resort stays and Disney shopping, dining, movies and more. The card offers a nice $200 statement credit after you spend $500 on purchases within the first three months, too.
Disney Premier Visa cardholders also get Disney-themed perks – from saving on Disney dining and shopping to exclusive Disney character experiences. You can even choose your own Disney card design to personalize it. And the $49 annual fee may be well worth the returns Disney fans get from this card.
What to expect from the Disney Premier Visa
APR: 17.49% variable APR on purchases and balance transfers. 0% promo APR for the first six months on select Disney vacation packages or purchase of a real estate interest, including a Member Add On, in a Disney Vacation Club Resort. 26.49% variable APR on cash advances.
Annual Fee: $49
Reward Rates: Earn 2% in Disney Rewards Dollars when you make transactions on the card at restaurants, grocery stores, gas stations and most Disney locations. Earn 1% on all other transactions with the Disney Premier Visa card. Rewards Dollars earned are unlimited.
Intro Offer: Earn a $200 statement credit after spending $500 in purchases in the first three months from the account opening.
Even better
Disney Rewards Dollars can be used on everything Disney, from cruise line packages to Disney store purchases to Disney and Star Wars movie tickets. You can also redeem Disney Rewards Dollars for a statement credit toward airline travel on any airline to any destination.
Save 10% on shopping on select purchases from Disney stores and at shopDisney.com. Cardholders also get access to exclusive Disney cardholder events at Disney stores.
Other Disney perks include special financing on select Disney vacation packages, 10% off select dining locations most days at Disneyland and Walt Disney World Resorts, and exclusive photo opportunities with Disney and Star Wars characters at Walt Disney World and Disneyland Resorts.
But keep your eyes open for pitfalls
Planning on using your card at a Disney park abroad? Want to shop for Disney-themed purchases from outside the country? You'll have to deal with a 3% foreign transaction fee of the amount of each transaction in U.S. dollars, on all foreign purchases.
The $49 annual fee may also not be worth it for casual Disney fans. If you want a Disney Rewards card but don't want an annual fee, the Disney Visa Card has a $0 annual fee and offers a $50 statement credit after your first purchase, plus 1% in Disney Rewards Dollars on all card purchases. There aren't any airline travel redemption offers on Rewards Dollars with the Disney Visa Card, but you do get similar Disney-themed perks like shopping and dining discounts, plus character access.
If you head to Disney theme parks and resorts once in a while, you might be better off with a cash back rewards card or travel card you can use toward Disney-themed rewards. The Citi Double Cash Card has no annual fee and earns you 2% cash back on every purchase, with unlimited 1% cash back when you buy and an additional 1% as you pay back purchases. You can spend your cash back rewards on whatever you want, so if you don't make many Disney-themed purchases one year, you can still maximize your rewards.
A travel card with no annual fee is the Discover it® Miles card. You get unlimited 1.5x miles for every dollar spent, which can be redeemed for travel purchases like Disney hotels or redeemed for cash to spend how you want. You get all the miles you've earned at the end of your first year matched back automatically, with no limit to your bonus match. With this card, you have the potential to earn a bigger travel or cash reward that you can use toward Disney or however you want.
How to maximize your Disney Premier Visa rewards
If you have a Disney trip planned, you can use your Disney Premier Visa rewards cards to accumulate the amount of Disney Rewards Dollars you'll need. Focus purchases on the 2% Disney Rewards Dollars categories, which are Disney locations, plus restaurants, grocery stores and gas stations.
Whenever you do visit a Disney location like a theme park, or if you're going to see a Disney movie, use the card for 2% Disney Rewards Dollars and potential savings.
Getting the card may be worth the character access alone. If you have a trip coming up and your kids want to meet their favorite Disney or "Star Wars" characters, get the card so you increase your chance of getting a memorable photo opportunity while you're at a Disney park or on a Disney cruise.
Bottom line
If you want a credit card that rewards your Disney fandom, the Disney Premier Visa card is the best choice. It does come with a $49 annual fee, but if you make plenty of Disney purchases for your family, you can quickly recoup rewards. It's also a good card to have on-hand if you ever plan to visit a Disney theme park or go on a Disney cruise, since you may be able to get a meeting with your favorite characters.
If you're an infrequent Disney spender, you'd be better off with a general travel or cash back rewards card. You could opt to add the Disney Visa Card to your collection, which requires no annual fee, but use your cardholder status for the members-only perks like Disney shopping discounts and character access when needed.