Fidelity Rewards Visa Signature Card Review
January 15, 2020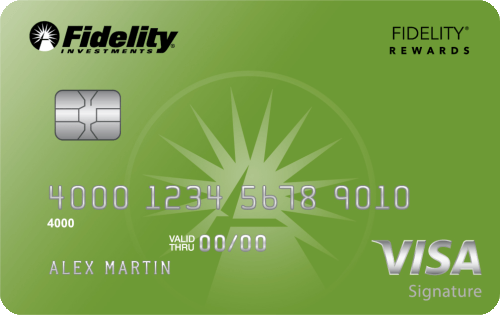 Get rewarded with the Fidelity Rewards Visa Signature Card
The Fidelity Rewards Visa Signature Card makes investing for your future even easier. You'll earn 2% back on every purchase with no limit and no expiration date, which you can use to save or invest for the future in your Fidelity account. You'll also never pay an annual fee.
Your rewards will be deposited directly into one of Fidelity's seven eligible accounts ranging from a simple cash management account to a retirement account to an HSA. If you want to use your rewards to save for the future rather than make additional purchases, the Fidelity credit card is a powerful tool to increase your saving and investing a little more every year.
What to expect from the Fidelity Rewards Visa Signature Card
APR: 15.49%
Annual Fee: $0
Reward Rates: Earn 2% back on every purchase with no rewards limits or expiration date.
Intro Offer: None
Even better
Link to Fidelity accounts: You'll be able to deposit your rewards directly into one or more Fidelity accounts after choosing from the list of eligible accounts including a brokerage account, Fidelity Cash Management Account, Fidelity-managed 529 College Savings plan, retirement account, Fidelity Go, Fidelity Charitable Giving Account or Fidelity HSA. 
Fund a loved one's account: You can choose to deposit your rewards into someone else's account to help them save or invest for the future.
Flexible rewards deposits: You can choose to deposit your rewards automatically or wait to deposit a lump sum whenever you want. 
No annual fee. You won't have to worry about an annual fee dragging down the value of your rewards. 
Visa Signature Concierge: Get help whenever you need it with 24-hour access to a concierge who can help you with booking your next trip to scoring tickets to an upcoming concert.
But keep your eyes open for pitfalls
While the Fidelity credit card offers an extremely competitive rewards rate on every purchase, you will be limited on how you can use your rewards. This card is designed for people who want a little boost for their savings and investing goals, not for those who want to use rewards to travel or make extra purchases. If you don't already have a Fidelity account and don't want to open one just to have this card, you should look to other cash back rewards cards with similar rates like the Citi Double Cash.
It's also a bummer that the Fidelity credit card does not offer any kind of sign up bonus or intro APR, which is well below the standard of many of the best cash back rewards credit cards. If you want a cash back card that earns a sign up bonus, Quicksilver from Capital One is a great option.
Finally, carrying a balance on your Fidelity credit card will make your rewards worthless. With no intro APR, you'll pay interest every month that you don't pay your balance in full. While the card's 15.49% APR is on the lower side for personal credit cards, it's still more than enough to completely wipe out your 2% rewards rate.
How to maximize your Fidelity Rewards Visa Signature Card rewards
With 2% cash back on every purchase, you'll quickly earn enough rewards to see a real difference in your savings and investing accounts. The first step you'll take is to open and choose the Fidelity account where your rewards will be deposited. You have several options to choose from, so pick one that best fits your financial goals. If you just want a little boost in your checking account, Fidelity's Cash Management will work well for you, but if you don't plan on using your rewards any time soon, an investment account will let your rewards potentially earn you even more over time.
One of the biggest benefits of the Fidelity credit card is hassle-free investing. If you often wish you stashed more money away in your retirement account, your rewards can help you with that. By automatically depositing them into an investment account, your rewards will have the opportunity to grow well beyond your 2% reward rate as you get ready for retirement.
Of course, you won't earn enough rewards to make a difference if you keep your card hiding in the back of your wallet. To make sure you are earning rewards and taking advantage of your 2% cash back, use your card on your everyday purchases. If you spend $2,000 on your card each month, you'll earn $480 each year in cash back rewards — that will be a pretty big boost to your retirement account over time.
Bottom line
The Fidelity credit card is the perfect option for people who want a little boost on their savings and investing goals. While you won't be retiring to a private beach in Maui on your 2% cash back rewards alone, it can help you reach your goals a little sooner without having to take money from your paycheck to do it. With nearly $500 a year in rewards (when you spend $2,000 on your card each month), you can start saving for your kid's college with a 529 College Savings Plan or get a little closer to maxing out your IRA just by using your card for your normal purchases throughout the year.
However, if you'd rather use your credit card rewards to take the family on a beach vacation, the Fidelity credit card won't be the best choice for you. Because you can only deposit your rewards into a Fidelity account, your options for redeeming them are limited. Try looking for a travel rewards card that rewards you with every purchase and offers a lucrative sign up bonus, like the Chase Sapphire Preferred, to help pay for your next getaway.