Hilton Honors from American Express Credit Card Review
December 19, 2019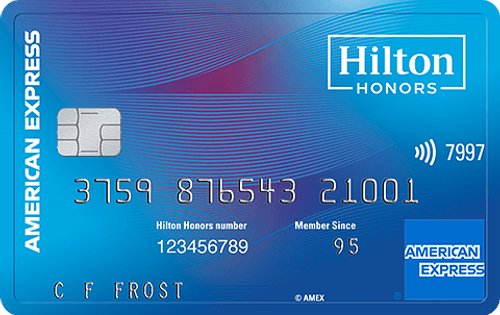 Get rewarded with the Hilton Honors from American Express credit card
Travel lovers of all kinds can save big on hotel stays by racking up points redeemable at any of the hotel brands in the Hilton Portfolio with the Hilton Honors American Express credit card. From Hilton's five-star Waldolf Astoria to the budget-conscious Hampton Suites, there is a Hilton hotel for every traveler and every travel occasion.
In addition to earning points on every purchase they charge on the card, new cardmembers earn 75,000 Hilton Honors bonus points after they spend at least $1,000 in eligible purchases during the first three months. The Hilton Honors Amex card also gives complimentary Hilton Honors Silver status to new cardmembers.
What to expect from the Hilton Honors Amex
APR: 17.24% to 26.24% variable APR
Annual Fee: $0
Reward Rates: Cardmembers earn 7x Hilton Honors bonus points for each dollar spent on a hotel or resort stay in the Hilton portfolio; 5x Hilton Honors bonus points for every dollar spent at a U.S. restaurant, U.S. grocery store and U.S. gas station; and 3x Hilton Honors bonus points for all other eligible purchases.  
Intro Offer: Earn 75,000 Hilton Honors bonus points by charging $1,000 on your card in the first three months. 
Even better
No transaction fees on purchases made in foreign countries.
Enjoy help from the Global Assist Hotline if you're having troubles while you're away from home.
Complimentary Silver Status is awarded to new Hilton Honors Amex cardmembers. This benefit allows you to save 20% more toward free nights with Elite Tier Bonus Points. In addition, new cardmembers who spend $20,000 on eligible purchases in a calendar year will be upgraded to Gold Status, which allows cardmembers to upgrade rooms, enjoy free continental breakfast and get 80% more Elite Tier Bonus Points.
Hilton Honors cardmembers are entitled to Amex's Lowest Hotel Rates Guarantee: If you find a lower room rate, Amex will refund the difference.
Reward points can be used not only to book a hotel room in the Hilton portfolio of hotels but also to purchase a room upgrade, event credits or certain global travel experiences, including a camel ride in Egypt and indoor skydiving in Amsterdam. You can even use Hilton Honor points to purchase travel with airline loyalty partners or make purchases on Amazon.com.
The Hilton Honors Amex reward card also comes with all the perks available to Amex cardmembers, including its Lowest Hotel Rates Guarantee and the Plan It® option, which allows cardmembers to budget out up to ten big-ticket items and pay for them in monthly installments.
Car rental loss and damage insurance keeps you covered against problems when you're renting a car away from home.
But keep your eyes open for pitfalls
Hilton Honors Amex card offers substantial rewards for travelers who want to stay within the Hilton portfolio of hotels. Redeeming the points in other ways, however, is less lucrative. For instance, if you opt to make an Amazon.com purchase by redeeming your points, you'll effectively cut the value of the point by two-thirds.
Another problem with the Hilton Honors Amex card lies in access to hotels. Although there are 5,700 hotels to choose from in 113 countries and territories worldwide, some countries, notably China, have a limited selection of Hilton branded hotels. There can also be discrepancies in the quality of hotels within the Hilton portfolio. A cardmember has little recourse, for instance, if the hotel they book has outdated decor or is simply not up to the quality standards of the same chain in other locations.
How to maximize your Hilton Honors Amex rewards
The best use of the Hilton Honors Amex card is booking hotels within the Hilton portfolio. If cardmembers do this, that means the introductory bonus alone will be worth a night's stay at many upscale hotels. Because the Hilton Honors program uses variable pricing, however, exactly how much your redeemable points are worth differs from location to location and hotel to hotel. The best way to maximize point redemption for hotel stays is to do careful comparison shopping when you plan your trip. The Points Explorer tool makes it easy to search for available hotels and compare.
Another helpful thing to know about redeeming Hilton Honors points is you can use a combination of points and cash to pay for a hotel room. There is a 5,000 point minimum if you choose this option, but you can select any ratio of Hilton Honors points to cash once the minimum requirement has been met. Moreover, you will earn Hilton Honors points on the cash portion of your hotel stay.
Bottom line
For people who travel frequently and are brand loyalists, the Hilton Honors Amex reward card is definitely worth considering. The points are redeemable at 5,700 hotels, in 113 countries worldwide, and brands within the Hilton portfolio of hotels suit every budget. The introductory bonus gives new cardholders two valuable perks: 75,000 Hilton Honors points and honorary Silver Status. Thanks to the program's variable pricing, the introductory bonus points can be worth $600 or more — the equivalent of one night's stay in New York City — and Silver Status allows cardmembers to earn even more bonus points. For a reward card, this is a considerable introductory bonus. The card also has no foreign transaction fees and no annual fee.
If you are not going to redeem the Hilton Honors points for stays in Hilton portfolio hotels, the value of the points goes down considerably, however, and for travelers to some locations, options may be limited. For a travel card with more flexibility, you might want to consider the Capital One Venture Rewards card instead, which allows cardmembers to redeem points for hotels and airline travel and comes with 50,000 bonus miles.