IHG Rewards Club Premier Credit Card Review
December 19, 2019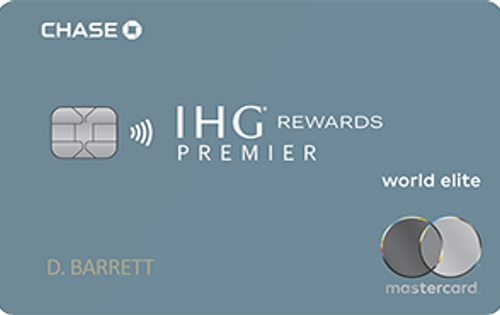 Get rewarded with the IHG Rewards Club Premier Credit Card
With loads of membership perks and the ability to accumulate points quickly, IHG Rewards Club Premier Credit Card is a good choice for anyone who travels frequently. You can redeem points at any of the hotels and resorts in the InterContinental Hotels Group (IHG), a portfolio of 12 different hotel brands, including Holiday Inn and Holiday Express, Regents, InterContinental and Kimpton hotels and resorts. With more than 5,500 hotels and resorts worldwide, at every budget, you can easily find an IHG hotel whether you want to vacation in Oman or just go on a road trip to visit your grandchildren.
The card gives generous cash back travel rewards — a combined total of 25 points on the dollar — when you become an IHG Rewards Club member and obtain Platinum Elite Status, which is a feature of IHG Rewards Club Premier card membership. It also offers an 80,000 point bonus for new members.
What to expect from the IHG Rewards Club Premier Credit Card
APR: 17.49%-24.49% variable
Annual Fee: $89
Reward Rates: Ten points per dollar when you use the card to purchase a stay at any IHG hotel and resort; two points for gas stations, grocery stores and restaurants; one point for everything else.
Intro Offer: Earn 80,000 points when you spend $2,000 on purchases in the first three months after card opening. Become automatically eligible for Platinum Elite Status.
Even better
Earn 25 points to the dollar each time you use the IHG Rewards Club Premier card to purchase a hotel stay at one of the hotels in the IHG portfolio: ten points for using the card; ten points for being an IHG Rewards Club member; and five points for having Platinum Elite Status. 
New members earn an additional 10,000 bonus points every time they spend 20,000 (plus one additional purchase of any amount) in subsequent account anniversary years.
Enjoy a free night's stay at IHG hotels worldwide each account anniversary, which can be the perfect time for a little getaway.
Get a free award night when you redeem points for any IHG hotel stay of four nights or more.
No foreign transaction fees, which can help you save big while abroad.
A Global Entry or TSA Precheck fee credit of up to $100 every four years.
Platinum Elite Status is awarded to all IHG Rewards Club Premier card members in good standing, allowing you to save 20% when you purchase points with the card.
But keep your eyes open for pitfalls
The card offers generous rewards to travelers loyal to IHG portfolio branded hotels. But it's important to read the fine print. For instance, the Anniversary Free Night has a 40,000-point limit, which means you won't be able to stay at a luxury hotel in a city like New York, Chicago, London or Paris. Hotels in these cities cost more than 40,000 points within the current tiered point scale, which ranges from 10,000 to 70,000 points. Moreover, IHG Rewards Club Premier is slated to go to a variable pricing system, which means that high-demand dates for certain hotels may soon exceed the upper limit.
While there are no blackout dates per se, IHG reserves the right to restrict the number of rooms it offers through its Rewards Club program. That means it may be hard to book the room you want using points. And as with other hotel travel reward cards, you fare much worse when redeeming the points in other ways, such as purchasing air travel miles or redeeming gifts.
How to maximize your IHG Rewards Club Premier card rewards
The IHG Rewards Club allows you to book hotel rooms by using a combination of cash and points. The way it works: You redeem a threshold number of points, which varies from booking to booking, and pay cash for the rest. For instance, a hotel room that is 35,000 points becomes 15,000 points + $120. You are able to use your IHG Rewards Club Premier card to pay for the cash portion of the transaction.
You can transfer points from any Chase credit card that offers Ultimate Rewards to your IHG Rewards Club Premier card at a 1:1 ratio, which is a great way to get extra points for an upcoming trip.
Finally, the IHG Rewards Club offers a promotion called PointBreaks several times a year that offers a two-night reservation per hotel during the special offer period. These hotels, located worldwide, are available for as little as 5,000 points per night. For intrepid travelers with a lot of flexibility when planning a trip, this can be a great way to save big on hotel stays.
Bottom line
The IHG Rewards Club Premier Credit Card is a great deal for frequent travelers who wish to stay in the InterContinental Hotel Group's portfolio of hotels and resorts. Members in good standing earn 25 points when they purchase IHG hotel stays and two points to the dollar on gas stations, grocery stores and restaurants; they can also earn additional bonus points each year and transfer Ultimate Reward points from other Chase cards. There is a solid range of hotels and resorts to choose from worldwide, including the luxurious InterContinental Hotel and Resorts, the boutique Kimpton brand hotels and that familiar roadside staple, Holiday Inn.
The IHG Rewards Club Premier card is not for everyone, though. Because the points are really only a good value if used to stay at hotels and resorts within the IHG portfolio of hotels, and IHG limits the number of hotel rooms available via point redemption, travelers to popular destinations may have trouble using their rewards to book travel.
The Chase Sapphire Preferred Card is potentially a better deal for those who want better travel flexibility, including 1:1 redemption value on airline travel purchase.