Indigo Platinum Mastercard Credit Card Review
January 15, 2020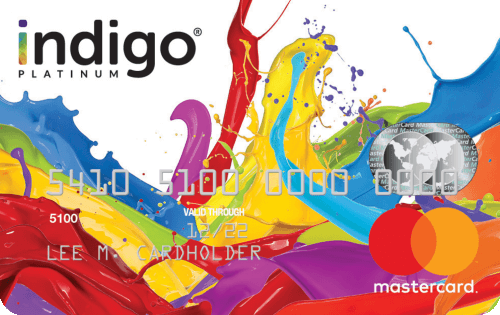 Get rewarded with the Indigo Platinum Mastercard
Looking to rebuild or establish credit, but don't have the money to put down a deposit? The Indigo Platinum Mastercard can help you do just that while providing the standard perks associated with an insignia Mastercard. Indigo reports to all three of the main credit bureaus, so the card can help you improve your score if you make regular, on-time payments.
The issuer, Utah-based Celtic Bank, doesn't require a security deposit, so you can get started on your credit journey right away. The quick and easy pre-approval process takes just a minute, and once you are approved, you'll get to choose a card design that reflects your personality.
What to expect from the Indigo Platinum Mastercard
APR: 24.9%
Annual Fee: Varies from $0-$99, depending on creditworthiness. For people who qualify for the $99 annual fee, the rate is $75 the first year; $99 thereafter.
Reward Rates: None.
Intro Offer: None.
Even better
Pre-qualification for Indigo Platinum Mastercard is quick — it takes just 60 seconds, according to its website — and has no impact on your credit score.
You can choose among several sharp graphic designs to customize the card so that it reflects your style.
You have 24/7 mobile card access, and account details are available for viewing on all of your devices.
You can contact customer service toll-free anytime.
The card reports to all three main credit bureaus — Experian, TransUnion and Equifax — so that it can help you rebuild your credit score.
Indigo comes with some standard Mastercard perks, such as an extended warranty, rental car collision insurance, a roadside assistance hotline and emergency cash assistance.
For the first year that you have the card, there is no fee for cash advances.
You only need poor to fair credit to obtain this card.
$300 unsecured initial line of credit gives you room for several purchases.
This card has standard security features, like chip technology.
But keep your eyes open for pitfalls
Indigo Platinum Mastercard can help people rebuild or establish their credit — if they use the card wisely. But cardholders need to be aware of the costs associated with choosing this card. For instance, if you qualify for the highest annual fee, $99, the fee for the first year is reduced to $75. But this fee is assessed before you even start using the card, bringing the initial available credit from $300 to $225. If you aren't aware of that automatic deduction, you could easily go over the available limit, incurring an additional fee of up to $39.
The fees don't stop there. Indigo Platinum Mastercard also has a 1% foreign transaction fee, a late payment fee of up to $39 and a returned payment fee of up to $39. Make a single late payment, and your APR may be increased to the penalty rate of 29.9% "indefinitely." Although the card waives cash advance fees for the first year you are a cardholder, they still aren't a great idea since the APR for cash advances is 29.9%. After the first year, the cost of getting a single cash advance is either $5 or 5% of the transaction, whichever is greater, up to $100.
How to maximize your Indigo Platinum Mastercard rewards
If you are applying for the Indigo card, you probably have poor credit but need some of the advantages associated with a credit card, including the ability to rent a car and make purchases online. You probably also don't have the ability to save up for a security deposit; otherwise, you could take advantage of a secured card without an annual fee. As long as you recognize that this card is a temporary measure, you can use the Indigo card to build your score and make the transition to a credit card with more favorable terms.
The Indigo card is bare-bones and doesn't really offer cardholder rewards, like cash back or points. The card issuer also doesn't allow you to transfer the balance from another credit card. Thanks to the relatively low foreign transaction fee of 1%, and some of the standards Mastercard perks, like rental car collision coverage and travel assistance, though, it is a good card to use anywhere in the world that Mastercard is accepted.
It's key that you don't carry a balance on this card or make any late payments, though. Late payments could raise your APR indefinitely. Moreover, the low initial credit limit of $300 means that your credit score could be hurt by high credit utilization if you carry even a small balance. You also need to be aware that the annual fee will be automatically deducted before you even start using the card. Paying that fee immediately will free up the credit limit on the card, lower your credit utilization and help you to avoid costly over-limit fees.
Bottom line
For people who need to rebuild credit or are just getting started on their credit journey, Indigo Platinum Mastercard is a bare-bones card that can get the job done. This, of course, depends on if you're committed to paying the balance in full each month. The card is accepted at millions of businesses worldwide, making it a good all-purpose card for both everyday and travel purchases. It gives cardholders perks like rental car collision coverage, fraud protection and emergency cash assistance. And unlike some department store cards, it reports to all three credit bureaus each month.
Where Indigo Platinum falls short is the fees you'll have to pay. The annual fee is of particular concern, and you won't know which level you have to pay until you are approved. A better choice for people with poor credit is a secured card like Discover It® Secured. Your credit limit is tied to the amount of money you deposit, so it can be higher to start, and you won't pay an annual fee.