JetBlue Credit Card Review
January 15, 2020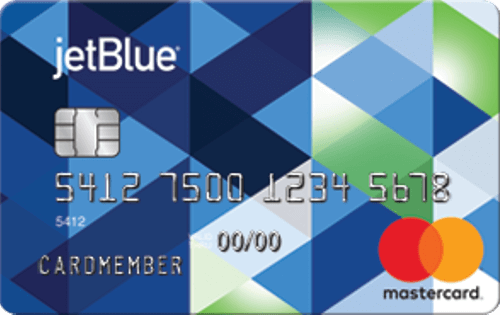 Get rewarded with the JetBlue Card
The JetBlue Card is the ideal card for infrequent travelers who prefer to fly with JetBlue but don't want to pay an annual fee. The card offers excellent rewards on JetBlue purchases and a few other categories, as well as discounts on in-flight purchases.
What to expect from the JetBlue Card
APR: 17.49%-26.49%
Annual Fee: $0
Rewards: Earn 3x points on purchases from JetBlue, 2x points at restaurants and grocery stores and 1x point on everything else.
Introductory Bonus: 10,000 bonus points after spending $1,000 in the first 90 days.
Even better
Points can be redeemed on JetBlue or Hawaiian Airlines. They can also be used for vacation packages through JetBlue vacations, donated to charity or to obtain magazine subscriptions. 
There is no cap to how many points a cardholder can accumulate and points never expire. 
There is a 0% APR for the first 12 billing cycles on balance transfers within the first 45 days of opening the account.
When cardholders fly on JetBlue, they can use their cards for half-off drinks and food purchases. 
If you are making an international purchase, there is a 0% fee on all foreign transactions. 
There are no blackout dates and points can be redeemed for any seat any time on JetBlue flights.
Cardholders get $0 fraud liability protection which protects them from unauthorized charges.
Cardholders can use point pooling with as many as six family members.
But keep your eyes open for pitfalls
JetBlue flies to many locations in North and South America, with a focus on locations found on the Eastern seaboard. However, it does not fly to as many locations as bigger airlines. For those who do not often use JetBlue or who use other airlines more frequently, the JetBlue card is probably not the best choice.
Another drawback of this card is that it doesn't have as many additional perks as other travel reward cards. The sign-up bonus requires a minimum purchase and isn't a major incentive. There also aren't added benefits like lounge access, free checked bags or redemption bonuses. What's more, the card doesn't offer an anniversary bonus like other JetBlue cards.
Finally, when it comes to redeeming points, you simply don't have a lot of options. You're limited to flights, packages offered through JetBlue vacations and magazine subscriptions.
If you want more benefits and want to stick with JetBlue airlines, you may want to consider the JetBlue Plus Card, which is one tier above the JetBlue Card. Though the JetBlue Plus Card does have an annual fee, it offers a great deal more benefits than the JetBlue Card. Cardholders get 40,000 bonus points (after spending $1,000 in the first 90 days), 6x points per $1 spent on JetBlue purchases, a 5,000-point anniversary bonus every year and a free first checked bag for up to three companions. Those who fly with JetBlue regularly will easily make up the annual cost of the card in free checked bags alone.
Another alternative to consider is the Capital One Venture Card. The card does charge an annual fee of $95, but the first year is waived. The card offers a sign-up bonus of 50,000 miles when card users spend $3,000 in the first three months. Cardholders also get unlimited 2x miles per dollar spent on every purchase and can transfer miles to 10+ Capital One travel partners. This card is an excellent alternative for people who want to earn airline miles on every purchase and do not want to be restricted to flying on a particular airline.
How to maximize your JetBlue Card rewards
The best way to maximize points on the JetBlue Card is to use it primarily for JetBlue purchases, which results in triple points. When on JetBlue flights, use the card on food and cocktail purchases to save a significant amount of money. Using the card for restaurants and groceries is another effective way to quickly accumulate points, as these purchases result in double points.
You will also benefit from signing up for the TrueBlue reward program. Flights booked through JetBlue can earn additional points that can be stacked with the points earned from the use of the JetBlue Card. Additional points can be earned by booking flights on jetblue.com or through the JetBlue app as opposed to calling to schedule a flight.
The most loyal JetBlue flyers may also qualify for the elite status level TrueBlue® Mosaic. To qualify for this program, members must either earn 15,000 base flight points or fly 30 segments plus earn 12,000 base flight points within a calendar year. With this elite status level, cardholders will enjoy early boarding, two checked bags free, complimentary alcoholic beverages on flights and more.
As JetBlue Card members accrue points, the best time to use them is on flights that are set at reduced rates. This requires fewer points and provides more purchasing power. A savvy traveler should also pay attention to the different levels of flights offered with JetBlue, which include Blue Basic, Blue, Blue Plus, Blue Extra and Mint. Each level is more expensive than the last, but each offers additional perks as well. For instance, higher level flights offer more reward points back.
Bottom line
The JetBlue Card is a good choice for travelers who often use JetBlue airlines and don't want to pay an annual fee. Without an annual fee, there's no risk to use the card and reward points are easy to grow. Points are awarded for flight-related purchases as well as general purchases so card users can earn points every time they buy something. Coupled with the TrueBlue reward program, the points are even easier to collect.
For those who travel more frequently with JetBlue, the JetBlue Plus Card may be a better choice. While they do charge a $99 annual fee, the perks easily make up for the additional cost.