Milestone Gold Mastercard Credit Card Review
January 15, 2020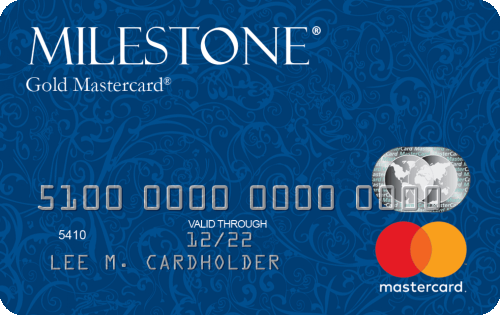 Get rewarded with the Milestone Gold Mastercard
Individuals looking to rebuild their credit will find value in the Milestone Gold Mastercard. In many cases, credit rebuilders would need to make a deposit to open a credit card that helps boost scores, but the Milestone card is an unsecured option. If this is the path you need to follow, you may gain approval for poor or bad credit, even if there's a bankruptcy in your past. If all goes well, you can use the card as a stepping stone to more attractive offers.
It's sometimes difficult to pull the trigger on a credit card application when you know your scores aren't quite where you want them to be. You risk a hard credit pull that may lower your rating, and the worst part is that you may not even come away with an approval. The Milestone application process includes a pre-qualification step that can put your mind somewhat at ease. The issuer won't request a credit report in this phase, so your score won't suffer, and you'll have a better understanding of your odds to secure the card.
What to expect from the Milestone Gold Mastercard
APR: Standard variable APR of 24.90% with no introductory offer on purchases or balance transfers.
Annual Fee: $35-$75 in the first year and $99 in subsequent years.
Reward Rates: There are no rewards associated with this card.
Intro Offer: No special introductory offers or welcome bonuses come with the Milestone Mastercard program. 
Even better
Identity theft protection: The Mastercard identity theft program continuously searches for any illicit use of your personal identifiers: Social Security numbers, account numbers, usernames, passwords, etc. 
Global acceptance: With more than 35 million locations worldwide, you can use the card anywhere Mastercard is accepted.
Low foreign transaction fees: Using the card abroad will only trigger a 1% foreign transaction fee, which is less than the common 3% that many other cards charge. 
Online access: You can check a balance, view transactions and make payments through the card's online portal.
Zero liability protection: As you use the card, you can rest easy knowing you will not have any financial liability for unauthorized or fraudulent activity.
But keep your eyes open for pitfalls
High annual fees and a low credit limit make for a bad combination in a credit card, and the Milestone card falls squarely into that category. Not only does the high annual fee eat away at your usable $300 maximum line, but the upper-range charge of $75 — if not paid off immediately — will increase your utilization rate and hurt your credit score. That's probably not fulfilling the objective you set for a credit rebuilding card program. Add in the fact that the card offers no rewards platform, and there's little to attract applicants with poor credit. Fortunately, there are more appealing options.
If you want an unsecured credit card with a bit more pizazz than the Milestone card, you might consider applying for the Capital One Platinum Credit Card, which carries no annual fee and is geared toward individuals with a limited credit history or fair credit rating. You'll start out with a $300 credit limit as well, but after making on-time payments for five months, you'll be eligible for a bump up in that line. You'll just need to be sure to pay off balances in full each month, as the 26.99% APR can quickly rack up interest charges that exceed the Milestone card's annual fee.
Another card to consider is the Indigo Platinum Mastercard. This unsecured card has an annual fee of up to $99, but it also reports to all three credit bureaus to help you rebuild your credit score faster. Plus, the pre-approval process takes just 60 seconds.
How to maximize your Milestone Gold Mastercard rewards
To achieve the goal you likely set when you acquired the card, it's best to make small purchases and pay them off immediately. This strategy helps you in two ways. After time passes, your credit profile will reflect regular and timely payments. By not running purchases up to the card's credit limit, you'll keep your utilization ratio low. In both these cases, a clean payment record and a near-zero utilization-to-limit ratio will help boost your credit score.
The other scenario in which the card may be of use is if your cash flow is restricted and you could use a quick boost of $225 or so. It may be for an auto repair or small medical bill, and if you qualify, those balances won't be hanging over your head. If you could pay off the ensuing credit card balance in six monthly installments of about $41, you'd only incur approximately $17 in interest charges, which isn't backbreaking by anyone's standards. Thus, if you weren't incurring any additional charges during the six-month payoff period, you'd effectively have a small emergency stash to lean on twice each year.
Bottom line
Cards like the Milestone Gold Mastercard definitely have their place in the market, as anyone who's made a few financial missteps can attest. You'll need a way to get back to snuff, and for that reason, climbing the credit ladder with a rebuilding option like the Milestone card is a necessary first step in a journey that takes time and effort.
While the card has its merits, the accompanying benefits are paltry at best. The high annual fee is prohibitive, and you could possibly find another unsecured option that won't cost you a dime — if you don't carry a balance from month to month. There are also other unsecured cards that offer cash back on limited categories for a lesser annual fee, and while a bit of a bonus is not a huge differentiator, some reward is better than none.