Paypal Prepaid Mastercard Credit Card Review
January 10, 2020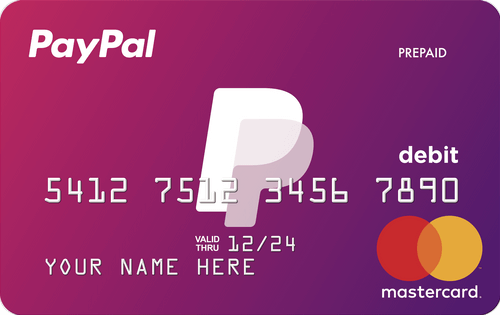 Get rewarded with PayPal Prepaid Mastercard credit card
With so many merchants around the globe now accepting the popular mobile payment app, adding the PayPal Prepaid Mastercard to your wallet gives you some additional flexibility. If you choose to part ways with traditional banking methods and have your paycheck deposited directly into a linked account, you could save yourself a lot of time avoiding trips to the bank. It's also a good option for freelancers — many of whom get paid via PayPal — to manage money and pay for goods and services under one roof. Side-hustlers can essentially link business and personal accounts for on-the-go transfers and single-platform simplicity.
It's important to note that this card is not a credit card. Paying for goods and services requires that you load the card with funds from your PayPal account or by depositing cash or checks at more than 30,000 Netspend locations. If you're not enamored with certain brick-and-mortar banks that require nine to five branch visits for deposits or other transactions, you're in luck. The Prepaid Mastercard lets you manage your cash from anywhere at any time.
What to expect from the PayPal Prepaid Mastercard credit card
APR: As the card is essentially a prepaid debit card option that you load from your PayPal account or at ATM locations, no APR applies.
Annual Fee: $4.95 per month
Reward Rates:  Cash back rewards apply at certain merchandisers and can also be earned by bringing friends, family or coworkers into the fold.
Intro Offer: No special introductory offers or welcome bonuses come with the PayPal Prepaid Mastercard.
Even better
Payback rewards: This is an optional program and after signing up, you'll receive cash back reward statement credits based on your shopping patterns.
Savings options: You'll be eligible to open an FDIC-insured savings account with a high interest rate on deposits up to $1,000 and a competitive market rate above that amount.
Mobile check loads: Get super-quick access to funds by depositing checks with a mobile device.
Refer-a-friend: If you bring over friends or family members who don't have other Netspend accounts, you'll get a $20 statement credit for every new qualifying referral.
But keep your eyes open for pitfalls
This is essentially a debit card that won't help your credit score at all. There are some peripheral rewards like the refer-a-friend program, but the cash back received from that deal doesn't stretch very far. If you're looking for miles or points, this card won't hit the mark. The limit to load deposits is only $500, so spontaneously acquiring a big-ticket item won't fly when your starting balance sits at zero. If you don't have a PayPal account, you'll face some limitations on your ability to load funds instantly.
Fee-conscious folks will likely give the PayPal Prepaid Mastercard a giant thumbs-down rating. For such a basic solution that's merely a way to conveniently pay cash for goods and services, account charges are prohibitive. Aside from the monthly fee, you'll incur costs to withdraw cash from ATMs, replace your card and even check your balance at an automated teller. And if you seek an ATM withdrawal of funds that exceed your available balance, you'll incur yet another fee when the transaction is declined.
In addition, not having a PayPal account will restrict your access to the full spectrum of online services. Contrast these obstacles to the many other mainstream bankcards that offer less costly, free-flowing cash management solutions, and you'll undoubtedly find a more preferable way to conduct personal banking business.
How to maximize your PayPal Prepaid Mastercard credit card rewards
Fintech aficionados might occasionally worry about the safety of their funds held in mobile wallet platforms like PayPal. However, funds loaded onto the card fall under the protection of the Federal Deposit Insurance Corporation (FDIC), of which Bancorp Bank is a member. In fact, cardholders have the ability to open an FDIC-insured savings account that can be funded from PayPal. The 5% rate on that deposit account for the first $1,000 will yield just about enough interest annually to wash out the card's monthly fee over the same time frame.
If you have a disdain for finance charges and avoid the credit card route, the PayPal card just might tickle your financial fancy. And if you receive payments or payroll through a PayPal account, there are a couple of other neat tricks you can perform. Moving money to a traditional bank account generally takes a day for the funds to appear, depending on the time of day you execute the transaction. With the card, funds transfer instantly, so there's no need to wait if you want to make a whimsical purchase of up to $5,000. Overall, you can load up to $15,000 on the card, so you likely have the budgetary room to set and forget payments for ordinary monthly expenses (rent, car, insurance, utilities, etc.).
Bottom line
If managed properly, the PayPal Prepaid Mastercard is a versatile debit option to have in your wallet. Its benefits stand out even more for those who use PayPal frequently to send or receive payments for goods and services. It's honored anywhere in the world that accepts Mastercard, and when you fall a little short on a purchase, PayPal has you covered. If you shy away from traditional banking and the potential for interest charges on a credit card, this option is worth considering.
On the other hand, you could likely simulate the PayPal card program with a debit card from a mobile-friendly institution that is lighter on the fee side or asks for none at all. If it's credit-building and rewards you seek, you'll want to find a secured credit card or one that only requires an average score to acquire.