Quicksilver from Capital One Credit Card Review
December 19, 2019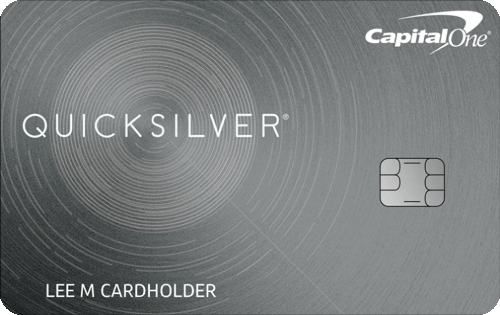 Get rewarded with the Quicksilver from Capital One
No matter where you shop, the Quicksilver from Capital One will be the perfect everyday carry card for your wallet. Made with eclectic spenders in mind, Quicksilver takes the hassle out of earning rewards by giving you 1.5% cash back on every dollar you spend. You won't have to waste time chasing quarterly rewards categories, tracking points or comparing redemption values for different transfer partners.
The Quicksilver's flat rate for cash back rewards makes it a great option for people who spend in a lot of different categories. If you tend to favor one or two categories like travel or dining and entertainment, you'll find cards like Savor and Venture from Capital One reward you much more for those purchases. However, if you'd rather spend your time enjoying the everyday activities you love instead of tracking categories and points, this will be a great card for you.
What to expect from the Quicksilver from Capital One
APR: 0% intro APR on purchases for 15 months, then the standard variable purchase APR of 15.74%-25.74% applies.
Annual Fee: $0
Reward Rates: Earn unlimited 1.5% cash back on every purchase, every day.
Intro Offer: Earn a one-time $150 cash bonus once you spend $500 on purchases within three months from account opening
Even better
Transfer Rate: 0% intro APR for 15 months on balance transfers, then 15.74%-25.74% variable APR after that. 3% fee on the amounts transferred within the first 15 months.

Rewards your way: Quicksilver's cash back rewards give you ultimate flexibility. You can redeem your cash back for any amount at any time. They never expire as long as your account is open.
No annual fee, no foreign transaction fees and no transfer fees after the first 15 months, helping you save big.
Premium access: From dining to sports to music, Capital One cardmembers enjoy exclusive access to events and experiences sponsored by Capital One.
Travel assistance services for 24-hours: If your card is lost or stolen, you can get an emergency replacement card and cash advance.
Virtual card numbers from Eno: Pay for online purchases with virtual card numbers and keep your actual card number to yourself.
Card lock: Lock your card in the Capital One Mobile app if it's misplaced, lost or stolen
But keep your eyes open for pitfalls
The Capital One Quicksilver's 0% introductory APR is long enough for you to forget when it is about to end. Track the end date of your intro period and pay off your balance before it ends to save yourself some money and avoid paying interest.
Capital One also wants you to have excellent credit before it approves you for Quicksilver. If you've ever declared bankruptcy or defaulted on a loan, you probably won't be approved for Quicksilver. You also can't have been more than 60 days late on any credit card, medical bill or loan in the last year. Finally, Capital One will also look at your credit history to see if you've had at least a $5,000 credit limit for the last three years.
If you don't think you'll meet Capital One's "excellent" credit requirements, you should consider Quicksilver's sister rewards card, QuicksilverOne from Capital One, which has all the same benefits but only requires average credit to be approved and carries a $39 annual fee.
How to maximize your Quicksilver from Capital One rewards
Getting the most value from your Quicksilver rewards card is simple: you have to use it. Because Quicksilver's cash back rewards are a flat 1.5%, the best way to maximize your card is to enjoy life and spend money on the things you love. And what better way to earn money from buying the things you love then to earn the $150 new cardmember bonus? All you need to do is spend $500 in the first three months after your account opens to kickstart your Quicksilver cash back rewards.
It doesn't matter if you're a dad gassing up the car for a family road trip, a student buying a last-minute textbook that your professor didn't put in the syllabus or an elementary school teacher putting the finishing touches on your space-themed bulletin board before the first day of school — Quicksilver from Capital One rewards you for every purchase, every day.
Your rewards are as flexible as the ways you earn them. Quicksilver gives you three ways to stretch every dollar you spend 1.5% further. You can redeem your rewards for cash to take a new adventure (or buy ice cream), apply your rewards to your balance to cover the cost of last week's date night or trade your rewards for gift cards so you can check "buying my little brother a birthday present" off your to-do list. With cash back rewards from Quicksilver, the possibilities are endless.
Bottom line
The Quicksilver from Capital One is a consistent winner for people who rarely see two days that look the same. If you're constantly on the move, hustling through your daily routine while juggling new adventures and responsibilities, you'll effortlessly earn rewards on every purchase, every day. You can live simply and be rewarded.
The 1.5% cash back rewards on every purchase won't radically change your life, but it is a hassle-free card to make every dollar you spend go further.
The Quicksilver may not be the card for you if you're a points master who thrives on finding the best redemption values and maximizing your rewards with monthly bonus categories. You'll be better off with a card like the Chase Freedom credit card, which offers 5% cash back in quarterly bonus categories. Also, if you tend you spend heavily in categories like travel or dining and entertainment, you'll find better rewards with Capital One's Venture and Savor rewards cards.