SavorOne Rewards from Capital One Credit Card Review
January 6, 2020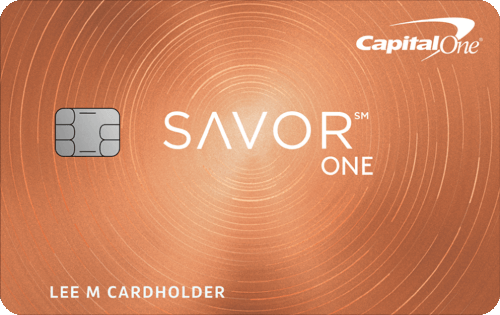 Get rewarded with the SavorOne Rewards from Capital One
If you spend a good portion of your budget grocery shopping, dining out or enjoying some entertainment, you need the SavorOne Rewards from Capital One credit card in your life. It has no annual fee and helps you earn money back whenever you go to the movies, the zoo, a concert, a bar, a cafe and more.
Just how much can you earn? The Capital One SavorOne card offers 3% cash back on all dining and entertainment purchases, 2% cash back on groceries and 1% cash back when you purchase any other type of product or service.
As a new cardholder, you can also earn a $150 bonus after you've spent $500 within the first three months of opening your account. That means you only need to spend about $170 per month for three months, making this an easy bonus to earn. Here's everything you need to know.
What to expect from the Capital One SavorOne
APR: 0% introductory APR on purchases and transfers for the first 15 months, then a variable APR of 15.74% to 25.74%.
Annual Fee: $0
Rewards Rate: Earn 3% cash back on dining and entertainment experiences, 2% cash back at grocery stores and 1% cash back on all other purchases
Sign-up Bonus: Earn a $150 cash bonus if you make $500 worth of purchases in the first three months after opening your account.
Even better
Rewards don't expire: Rewards last for the life of the account.
Versatile redemption: Redeem cash back at any time for statement credits, checks or gift cards. 
Automatic redemption: Options are available that let you set a yearly redemption rate or set a specified threshold ($25, $50, $100, $200, $500 or $1,500).
Travel accident insurance: When you use your card to purchase travel fares (plane tickets, train tickets, etc.), you'll get automatic insurance for a covered loss at no extra charge.
Complimentary concierge service: Experience 24/7 personalized assistance when it comes to your dining, entertainment and travel activities.
Extended warranty: Receive additional warranty protection free of charge for eligible items bought with your card.
Exclusive access: Gain access to exclusive events, VIP experiences, pre-sales and more. 
Save money: Gain access to Wikibuy and Paribus which help you find savings on your purchases. 
No foreign transaction fees: Purchases made outside of the United States will not incur transaction fees.
But keep your eyes open for pitfalls
While the Capital One SavorOne Credit Card has many benefits for people who are out and about, there are a few things you should know. First, the intro APR promotion will end after 15 months and your rate will go up to the regular rate. Ensure you pay off any balance that you don't want subject to the higher APR.
Second, Capital One determines the validity of purchases through merchant category codes. This can be tricky at times because not all vendors are categorized as they seem. For example, you may be dining at a cafe, but if it's part of a department store, then the whole establishment may be considered as a "merchandise" vendor instead of a "dining" vendor, so you'd get 1% cash back instead of 3%. Also, keep in mind, if you're visiting a theme park or an amusement park, they may have classified their online tickets as "merchandise" instead of "entertainment".
So what vendors are typically categorized to earn you rewards?
Dining merchants include fast-food chains, bakeries, lounges, bars, cafes and restaurants. 
Entertainment vendors include amusement parks, tourist attractions, bowling alleys, movie theaters, zoos, dance halls, aquariums, pool halls, record stores and sports, theatrical and concert promoters for live events. 
Grocery vendors include supermarkets, dairy product stores, meat lockers, freezers and specialty markets. Note that if you buy food products from gas stations, club stores, discount stores or superstores (such as Walmart or Target) you'll be given the 1% rate.
How to maximize your Capital One SavorOne Rewards Credit Card rewards
Get the most out of your Capital One SavorOne by first spending $500 within the first three months. That will earn you a quick $150 in your pocket. Next, if you want to make a purchase or transfer a balance, do so right away so you can take advantage of the full 15 months of no interest charges.
When it comes to the rewards, use the card for all of your dining, entertainment and grocery purchases. Every time you go out for a coffee, a beer, a movie, etc., put it on the SavorOne card. This will help you earn that 2% to 3% cash back rate. However, we do recommend that you follow up and check your Capital One statements to see what rewards rate you get. You'll want to take note of the places you regularly visit to see if they are categorized to earn you the higher rate.
Once you get into the habit of using this card and know the best places to use it, you can earn a competitive cash back rate, all without paying any kind of monthly or annual fee.
Additionally, don't forget about the benefits that come with this card. You can get exclusive access to events, pre-sales, VIP tickets and more. Plus, there's a whole lineup of protection and convenience features that can make life easier like Paribus, Wikibuy, 24/7 concierge services, security alerts, CreditWise, card lock and more.
Bottom line
The Capital One SavorOne is a good fit for the entertainment spender because you'll collect higher-tier rewards for your normal spending habits. Plus, you'll still earn 2% rewards for groceries and 1% for everything else. From young couples enjoying a night out to colleagues having an after-hours get together, this card can suit a variety of people at different stages in life.
Additionally, Capital One sweetens the offer with a sign-up bonus, 0% intro APR offer, no annual fee and a comprehensive lineup of benefits. It seems like a no-brainer. Just be sure to track your rewards to ensure you're earning the reward rates you think you're earning. If you want to earn even more on entertainment and dining (4%) and don't mind a $95 annual fee, check out the Savor Rewards Card from Capital One.