Southwest Rapid Rewards Plus Credit Card Review
January 8, 2020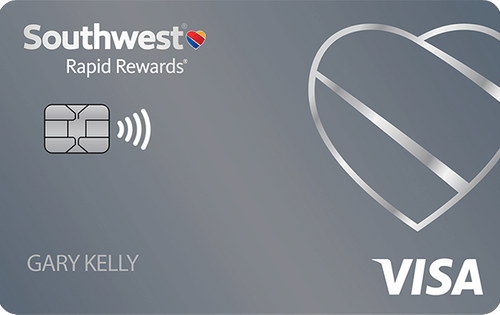 Get rewarded with the Southwest Rapid Rewards Plus
The Southwest Rapid Rewards Plus Card is one of three co-branded Chase cards in the Southwest Rapid Rewards family. Out of the three cards available, the Plus Card is the least showy of the bunch but also the least expensive. That said, this card still offers a ton of great features for frequent travelers.
You can expect 3,000 points every year on your anniversary, plus you'll earn two points for every $1 you spend with Southwest Airlines as well as hotel and rental partners and one point for every $1 you spend on any other purchases.
There's also a generous signup bonus that includes 40,000 points after you accrue $1,000 worth of purchases within your first three months after opening your account. Overall, the Plus Card comes in with the lowest annual fee at $69 per year out of the three Southwest cards, making it manageable for individuals and families who enjoy travel but don't want to spend too much in fees.
What to expect from the Southwest Rapid Rewards Plus
APR: The APR is pretty standard ranging from 17.49% to 24.49% based on your credit standing. 
Reward Rates: Earn two points for every $1 you spend on Southwest-related purchases as well as Rapid Rewards hotel and car rental purchases with participating partners. Earn one point for every $1 you spend on any other purchases outside of Southwest. These rewards will especially benefit frequent Southwest flyers.
Annual Fee: $69
Intro Offer: Receive 40,000 Southwest bonus points once you spend $1,000 on purchases within your first three months of opening your card account.
Even better
All the points you earn count towards Companion Pass, Southwest's benefits program that allows you to choose one person to fly free with you.
There are no blackout dates to work around when redeeming your rewards points.
There are no seat restrictions when using your reward points.
Every year on your Cardmember anniversary, you'll receive 3,000 bonus points just for keeping the card open all year.
There are two free checked bags per cardholder. 
Cardholder customer service for your convenience 24/7.
There are no fees for changing your flights.
Secondary car rental insurance coverage is included when you book and pay for your rental with your Southwest Rapid Rewards Plus Card.
Lost luggage reimbursement: In the case of a lost or damaged bag, you're covered up to $3,000 for each passenger.
But keep your eyes open for pitfalls
Perhaps the biggest pitfall of the Rapid Rewards Plus card is that you can only use rewards to book domestic flights through Southwest Airlines. This is a bummer for frequent travelers who are looking for more options. If you fall into this category of traveler, you may want to check out the Citi/AAdvantage Executive World Elite Mastercard, which extends its reward points to many partner airlines.
Another pitfall that may deter you from checking out the Rapid Rewards Plus card is the annual fee. Although the fee is only $69, there are other airline credit card options out there that don't charge an annual fee like the United TravelBank Card, which requires no annual fee but still offers benefits and rewards for travelers.
How to maximize your Southwest Rapid Rewards Plus rewards
Southwest Plus card members can enjoy a variety of redemption options, including airfare, gift cards, Southwest merchandise, hotel stays, car rentals and more. Keep in mind that the value of your Rapid Rewards Points will vary depending on how you redeem them.
While Southwest offers several redemption options, the best way to maximize your rewards points is to use them for airfare. If you've booked with Southwest before, then you know there are three fare tiers: Wanna Get Away, Anytime and Business Select. You'll get the most bang for your rewards buck when you choose the Wanna Get Away booking option, as this category has the best deals when it comes to point redemption. You can expect to redeem around 1.6 cents per point. If you can't find a Wanna Get Away fare for your desired time and location, the next best option is the Anytime fare, where you'll collect about 1.1 cents per point.
The good news is that Southwest offers its Wanna Get Away fare on most of its domestic flights, so if you travel within the U.S. often, you'll have plenty of opportunities to use your points towards flights. Southwest's redemption options are simple and straightforward, and while you can redeem them for things other than flights, the redemption rate is so low it's not advisable. Save your points for the next time you're booking a trip.
Bottom line
If you're already a frequent flyer with Southwest Airlines, it's a no-brainer to invest the $69 yearly fee into Southwest's Rapid Rewards Plus Credit Card because you'll easily make that money back and then some in the form of points and airfare credits. That said, if Southwest isn't the airline that you fly with most frequently, there are other airline credit cards that feature better benefits, like the Chase Sapphire Preferred Card with its almost unbeatable airline bonuses and perks.
The Southwest Plus Card does have its fair share of rewards and bonuses that are worth considering, like the 40,000 points you'll get from the intro offer and the high point redemption on Southwest flights. If you want to get the most out of your Southwest travel, you may want to consider springing for the Southwest Rapid Rewards Priority Credit Card. This card has all the bells and whistles for just an additional $80 per year ($149 total).