The Platinum Card® from American Express Review
December 19, 2019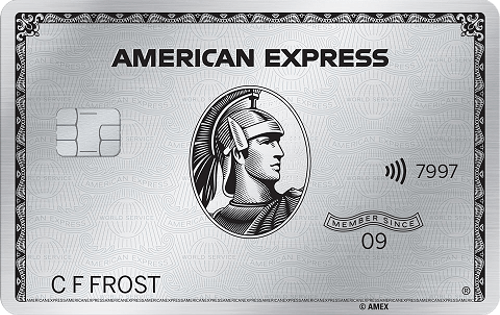 Get rewarded with the Platinum Card® From American Express
There's no denying it; if you want a card that represents the epitome of luxury, look no further than the Platinum Card® from American Express. This rewards card is designed with jet-setters in mind by offering bonuses, credits and perks throughout your adventures as a frequent flyer. The Platinum Card from American Express is one of the original luxury cards to hit the market, and those who like to spend a little extra on the finer things in life can surely have the opportunity to earn back the cost of the annual fee.
What to expect from the American Express Platinum Card
The American Express Platinum Card is a luxury travel card, meaning that the bonuses and rewards you get from using it will be most applicable for traveling. Here's what's on offer:
APR: None (this is a charge card, so balances are expected to be paid in full each month)
Annual Fee: $550
Rewards Rates: Earn 5X points on hotels and flights booked directly with airlines or through American Express Travel, 2X points on other eligible travel expenses and 1X on all other purchases.
Intro Offer: Earn up to $75,000 Membership Rewards points if you use your new Platinum Card to make at least $5,000 in purchases in your first three months.
Even better
The real gold of this card is found in its travel perks. Here's all you can expect:
Reimbursement: Receive credit for the cost of either Global Entry ($100) or TSA Precheck ($85).
Airport lounge access: The American Express Platinum Card is your entry pass to over 1,200 airport lounges across 130 countries including American Express's Centurion Lounge, The International American Express lounges, Delta Sky Club if you're traveling with Delta, and Priority Pass Select lounges.
Hotel credits: Receive a $100 hotel credit that can be used toward various hotel luxuries such as fine dining, spa, activities and a room upgrade upon arrival when available. To receive this, you just need to book with participating properties for at least two consecutive nights.
Automatic credits: Receive up to $500 per year — $200 for airline incidentals, $200 for Uber and $100 for Saks Fifth Avenue.
Marriott Bonvoy Gold Elite Status: Upgrade your room upon check-in when available.
Hilton Honors Gold Status: Earn complimentary Hilton Honors Gold Status for their loyalty program.
Platinum travel service: Access travel counselors that can prepare custom itineraries and tailored recommendations.
Premium car rental programs: You can be eligible for special upgrades and discounts when renting a vehicle.
Car rental insurance: Even if you decline the rental companies insurance, you will still be covered if you incur any damages or if the vehicle is stolen. 
Premium global assist hotline: If you're more than 100 miles away from home you will have access to 24/7 medical, legal, financial or other select emergency coordination and assistance services.
Global dining collection: You'll have access to special dining events where you can meet with celebrity chefs like Gordon Ramsey.
Platinum concierge: Gain 24/7 access to an assistant that is able to make special arrangements for dinners or find those hard to get event tickets.
But keep your eyes open for pitfalls
The most obvious barrier to entry for most people will be the $550 annual fee. Although you can quickly earn that back in credits alone, those credits won't help you if you aren't traveling, staying at hotels for more than two nights, shopping Saks Fifth Avenue, etc.
If you're looking for a rewards card that will earn you cash back, then you'll need to look at cards like the Alliant Cashback Visa Signature Credit Card that earns you unlimited 3% cash back on all purchases for the first year and 2.5% after that. With the American Express Platinum card, reward points can be only be redeemed with American Express Travel and the company's partners.
The Platinum Card may also be showing its age when it comes to its annual $200 credit for airline fees and incidentals. The Chase Sapphire Reserve offers an annual credit of $300 for any travel expenses, even those outside of airline fees and incidentals, while only charging a $450 annual fee.
Lastly, the Platinum Card is a charge card, and not what you would consider a standard credit card. True charge cards generally don't have a set purchase APR as the balance is expected to be paid off every month in its entirety. However, American Express does offer an APR for cash advances, which is extremely high at 26.74%
How to maximize your American Express Platinum Card rewards
As we've stated above, the $550 annual fee will be a turn-off for some, but there are still ways to get the most out of this card.
First, plan how you're going to get the welcome offer of up to 75,000 Membership Rewards points. The easiest way is to plan a large vacation within three months of opening the account. When you do this, make sure you get the 5X points per $1 reward on your flight and hotel expenditures. When you get to your hotel, preferably a Marriott you're staying at for more than two nights, don't forget to check if there are any available rooms to upgrade to for free. And while you're there, make time to treat yourself using the $100 credit you get from the Hotel Collection. You might as well also rent a car as you get free insurance coverage and can possibly get a discount or upgrade.
When planning your trip, it can be easy to let some of the multiple benefits of this card slip your mind. But if you're diligent, there are plenty of ways that this card will end up paying for itself. The key is to travel often and check on your available perks to ensure you make the most of them — from rental car and hotel room upgrades to VIP tickets and 24/7 concierge service.
Bottom line
The Platinum Card from American Express is designed for frequent-flyers who like to travel in luxury. We're talking those who Uber to the airport, wait for their flight in a comfortable airport lounge, fly to New York and shop Saks Fifth Avenue, then take a spa day at a hotel. While it doesn't offer cash back, it can help you earn travel fares, hotels, cruises and more.
So if you're a frequent traveler who enjoys indulging and wouldn't mind the added benefits of rewards, the Platinum Card from American Express is worth considering.