Wells Fargo Propel American Express® Card Review
December 14, 2019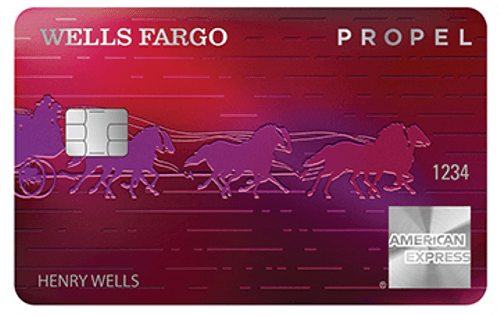 Get rewarded with the Wells Fargo Propel American Express® Card
The Wells Fargo Propel American Express® Card makes it easy to rack up reward points without having to pay an annual fee to reap the benefits. You can earn unlimited 3X reward points on a variety of unchanging popular categories and 1X rewards on everything else. Never worry about rotating bonus categories again!
One of the most beneficial features of this card is its $0 annual fee alongside the benefits. Normally, you would need to weigh the card's welcome offers with the cost of carrying the card annually to determine what rewards values it would take to break even. With the Wells Fargo Propel, you're immediately presented with upfront value without factoring in a yearly cost.
Between a generous new cardmember offers and an unlimited points program, the Wells Fargo Propel card is a straight-forward rewards points card perfect for anyone looking to cash in on rewards without changing their spending habits.
What to expect from the Wells Fargo Propel Card
APR: 0% introductory APR for 12 months on purchases and balance transfers, followed by a regular APR of 15.49%-27.49%.
Annual Fee: $0
Reward Rates: 3X the points for popular categories of spending, including eating out or ordering in, gas stations, rideshare and transit transactions, travel expenditures and popular streaming services. 1x points for all other purchases.
Intro Offer: 30,000 bonus points for spending $3,000 in your first three months.
Even better perks
The Wells Fargo Propel comes with even more benefits that go beyond the rewards, no annual fee and introductory offer:
Unlimited points that won't expire as long as your account stays open. Redeem your rewards whenever you see fit.
Points redeemable for cash back, travel, merchandise and gift cards using the Wells Fargo Go Far Rewards Portal. Use the portal to bid on exciting online auction items using points and share points with family, friends or charitable organizations.
No foreign currency conversion fee, which allows you to stock up on foreign money before you leave town.
Early access to tickets for concerts, theater shows and special events before they become available to the public.
Cell phone damage and theft protection (up to $600 with a $25 deductible) when you pay your cell phone bill with your card.
But keep your eyes open for pitfalls
Even though the Wells Fargo Propel card has some really great benefits, there are some pitfalls that might trip you up.
To begin with, the card is American Express and may not be accepted by all merchants, specifically when making international purchases. If you travel abroad often, a Visa or Mastercard alternative may serve you better, as they are more widely accepted outside of the U.S.
Additionally, be aware that you'll need a good-to-excellent credit score (690-850) to qualify for the card. Plus, there is a restriction on the introductory APR or bonus rewards offer which states you aren't eligible if you've opened a Wells Fargo credit card within the last 15 months — even if that account is closed and in good standing. It's important you read the fine print before applying to ensure you're eligible.
Although you can cash in your points for travel rewards, this card doesn't come with premium travel benefits like airport lounge access or the ability to transfer rewards to travel partners. If you're a frequent traveler, you'd be better off choosing a travel rewards credit card like the Chase Sapphire Preferred Card. Although it has a $95 annual fee, it comes with a huge sign-up bonus (60,000 bonus points after you spend $4,000 in your first three months) and other travel features like trip cancellation insurance, baggage delay insurance and increased point valuation when you book travel through the Chase Ultimate Rewards portal.
How to maximize your Wells Fargo Propel rewards
This card is all about the points. One point equals one cent, so there are no confusing conversions to think about.
Take advantage of the new cardmember bonus offer by spending $3,000 in your first three months. You can easily hit this mark by switching all of your recurring monthly bills — like your cell phone, internet and streaming services — onto your card. You can also responsibly increase your card spending by using it to make necessary purchases for groceries and gas. You'll quickly rack up points and earn 30,000 bonus points as icing on the cake without having to adjust where your money is going. That's worth $300 redeemable cash just for your normal spending habits.
Lastly, Wells Fargo's rewards program also makes it possible to redeem your points for cash directly from a Wells Fargo ATM. However, there are some limitations to this feature. You must redeem in $20 increments (2,000 point equivalent) which means you won't be able to redeem your rewards for cash if you fall below the 2,000 point line. However, it's a great feature that not all other cards are offering.
Bottom line
If you plan to do a lot of traveling, this card may fall short due to its lack of premium travel benefits and its limited acceptance (especially abroad). You may be better off exploring a travel rewards card that has a low annual fee in exchange for boosted travel perks.
However, if you're looking for a way to rack up unlimited reward points domestically, the Wells Fargo Propel credit card is a strong contender. The generous 3X reward level covers many purchase categories, helping you to earn more every time you eat out, order in, buy gas, travel and more. Plus, you earn 1X points on all other purchases.
With inclusive fixed bonus categories, an enticing intro APR offer, no annual fee, a 30K bonus point offer and a convenient rewards portal, the Wells Fargo Propel card can help you earn more rewards, more often, with less stress.